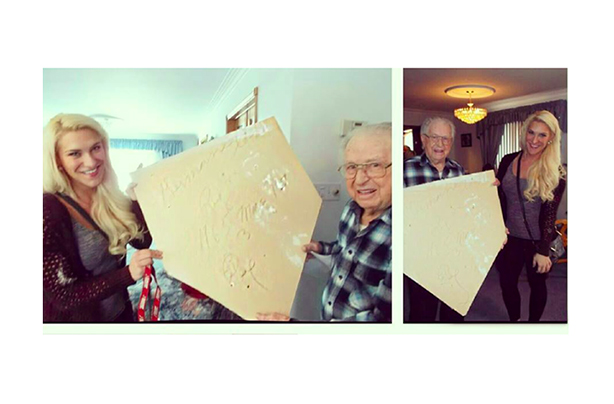 Through the power of Facebook, 92-year-old Roy Langdon has been able to see the love note his deceased wife Germaine left him 51 years ago for the first time.
The note was discovered by Rebecca Churán while she was redecorating her house – a home previously shared by Roy and Germaine. She uncovered it engraved on dry wall. The message had been hidden under panelling for years but when uncovered the message clearly read 'Germaine loves Roy xx 1965 March 1st.'
After her discovery Rebecca was keen to reunite the piece of family history with the Langdons, so she took to Facebook to spread the word. Posting in a community group called Valley East Rebecca wrote, 'Found this in a house I'm renovating in blezard Valley. Share to find the kids/ grandkids of Germaine and Ron ☺❤t.'
She then told Facebook users that she was 'willing to cut the piece of drywall out for you guys,' as the wall was 'going to be torn down to make the room bigger.'
When Valley East shared Rebecca's post it brought her to Roy's daughter Claudette, who would eventually reunite her elderly father with his wife's love note.
Once she had word from Claudette, Rebecca updated the Facebook community on the situation. Saying, 'I was informed that Germaine (his wife) had passed and that she had wrote him the message before they put the paneling up. I then offered to cut it out for them.'
As a reward for her good deed Rebecca was personally invited to present Roy with the note. His children invited her to their Easter celebrations where she surprised Roy. Alongside her updated Facebook post she wrote, 'I was invited to their Easter dinner to surprise him.'
Continued below...
Describing the moment she handed over the nostalgic note she said it was 'honestly the best thing' she had 'ever seen,' before adding 'the love I could feel he had for his past wife was almost too hard to take.'