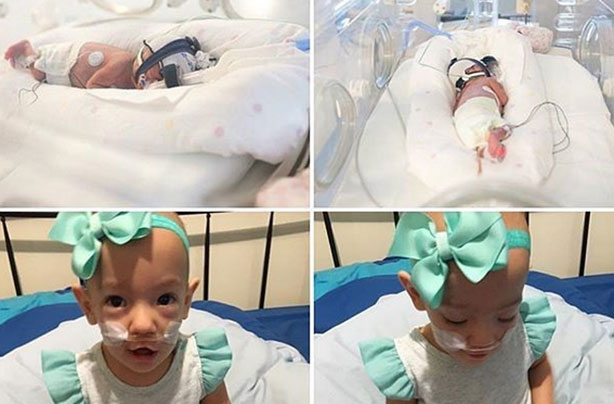 Only parents of premature babies will understand the heartache of seeing your newborn in a neonatal intensive care unit for the first weeks of their lives.
Now proud parents of 'premmies' are taking to Instagram to share photos of their children showing how far they've come from that hospital ward.
Australian charity Li'l Aussie Prems Foundation first organised the 'wear green for premmies' day in 2015 and it was so successful that they decided to do it again this year.
On 13th April, parents took to social media to share pictures of their children holding photos of themselves as a premature baby using the hashtag #GreenforPrem or #GreenforPremmies.
The photos clearly show how the fragile babies have gone on to become healthy toddlers – one is even wearing a Superman costume.
The official account shared a photo that was captioned; 'Ivana was born at 29 weeks via emergency c-section due to pre eclampsia. Our girl spent 73 days in hospital. Before our babe arrived we knew nothing about premature babies and nothing about NICU or SCN. I am so proud to share this photo to let my family and friends we will be wearing green for premmie awareness.'
https://www.instagram.com/p/BDU3X1pRJH5/?taken-by=lilaussiepremsfoundation
Another added; 'Leo and Lilly were born at 26 weeks and currently 2.5 years old holding a photo of when they were 1 week old.'
https://www.instagram.com/p/BEI_5W3RJAX/?taken-by=lilaussiepremsfoundation
One mum shared a touching meme which read; 'A premature baby may look tiny and fragile to touch but don't underestimate the courage, strength and determination of a baby born too soon.'
Evelyn Vienna said; 'Something close to my heart. Today is wear green for premmies this is Vienna with her picture at 34 weeks.'
Riley Dancer said; 'Today is Green for Prems day, here are my 2 premmies wearing their green. Ethan and Riley were both born at 33 weeks due to Rhesus disease.'
Janette Reid said; 'Cheese! Riley is wearing green for Premmies Day, A day that has a place in our families heart for two beautiful angels.'
Continued below...
https://www.instagram.com/p/BEHuMarxoWM/?tagged=greenforpremmies
Catherine Louise said; 'They came a little earlier so we could fall in love with them sooner.'