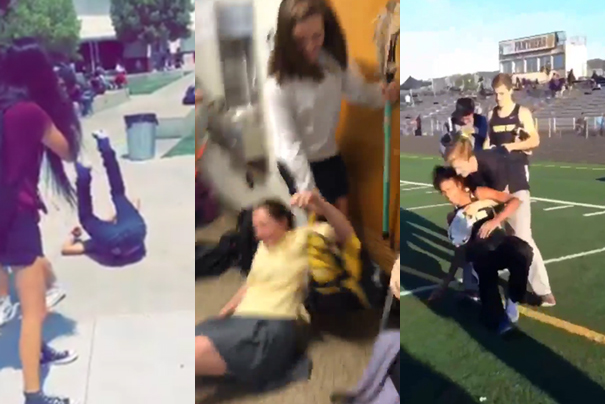 First there was 'planking' and then there was 'the banana peel challenge' (it feels like we can't keep up) but now it seems there's a new social media trend going on and it looks like it could be potentially dangerous.
This latest challenge has been dubbed #TrustFallChallenge and it sees teenagers throwing themselves backwards in the direction of strangers in the hope that they will catch them.
Filmed by a friend of course, on a smart phone, the video is then uploaded to Twitter for the world to see, with the short pieces of footage tagged as #TrustFallChallenge.
The aim, as far as we can tell, is to see how many people will catch you before you hit the deck. However, in a lot of cases the people are left sprawled on the ground in what looks like a very painful end to a light-hearted challenge.
In one video by Twitter user Sarah A, a female student can be seen falling multiple times on classmates all over the school. The other students are seemingly unaware of what she's doing. While some catch her others don't quite grasp the situation in time and Sarah tumbles to the ground in what looks like painful positions.
Despite having around 500 followers on her Twitter page, Sarah's video has over 5000 retweets and nearly the same amount of 'likes' on Twitter – proving that this trend seems to be pretty popular with teens.
Here are some of the videos...
https://twitter.com/sarahaljurdi/status/721211109022109696
#trustfall the past 3 days have been the best @overbeck_simone @kennidy_tay @kaitlynmckeown pic.twitter.com/Md4dTSYcOf

— abby kilkelly (@abby_kilkelly) April 23, 2016
trust no one in this school, smh #trustfall pic.twitter.com/C6Wd8IjqWr

— Emily Gall (@gall_emily) April 21, 2016
https://twitter.com/tori_6677/status/724380186335006720
At the moment it appears as though most of the videos are taken in the US, but if past challenges are anything to go by, it won't be long until teenagers everywhere are throwing themselves at strangers.
Continued below...
What do you think of the challenge? A bit of fun or completely irresponsible? Let us know in the comments below.