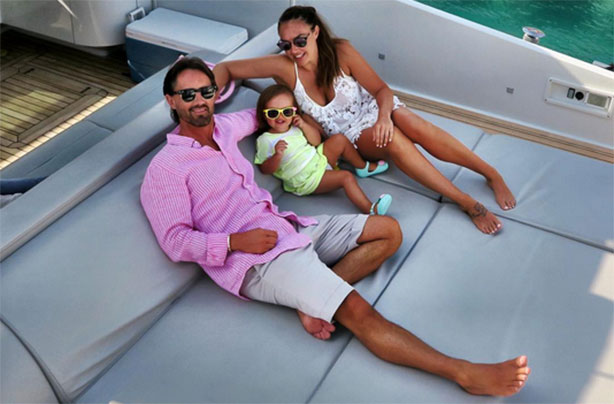 Socialite Tamara Ecclestone has defended a holiday picture of her daughter Sophia after followers on her Instagram account said that the tot looked 'sunburnt'.
Tamara, 31, has been holidaying with husband Jay Rutland and two-year-old Sophia in the Bahamas, and both parents have been sharing plenty of snaps throughout the trip.
However, one photo in particular caught the attention of her 213,000 followers, with many saying that Sophia looked like she'd been in the sun too long.
This photograph of Sophia caught the attention of Tamara's followers
'Sun burnt', one fan declared, and when some followers complimented Sophia's evident tan, another responded, 'Should a baby really be tanned though?'
Similar comments were also made on a picture that Tamara's husband Jay posted, with one exclaiming 'Get some factor 50 on her!'
However, many were quick to jump to the couple's defense, with one user saying 'She's not burnt she's tanned!! My daughter always tanned with a high factor when she was little!! Mum knows best!!', and a second adding 'Chill people, yes kids can have tans, they tan through factor 50. I'm quite sure her mum and dad aren't watching her slowly burn...if she was burnt she'd be in bloody agony not playing in the water.'
Tamara herself later hit back with a second picture of her daughter, writing:
'For all you busy bodies commenting on Sophia's tan she is not burnt in the slightest has been wearing factor 70 and kept out of the mid day sun.'
Tamara shared a second picture, putting the tan in the first down to an Instagram filter
'She is a lucky girl that tans quickly none the less I am fully aware of the dangers of the sun and she has never burnt. What can I say @jayrutland is partial to a filter calm your boners people.'
Continued below...
Tamara's husband Jay also responded to one of the critical comments directly, saying 'it's called a filter. Thanks for your 'concern' though.'