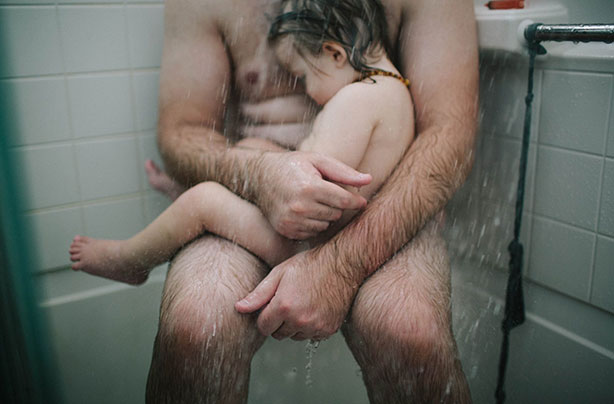 A mother is fighting back after she had a photograph of her two-year-old son removed by Facebook for 'violating' its rules.
Heather Whitten, a photographer from Arizona, USA, first posted the picture of her son Fox back in November 2014.
Since then the mother-of-four explains that Facebook repeatedly removed the picture, which shows her toddler and husband, Thomas, hugging in the shower while Fox was ill with Salmonella.
The thirty-something mother describes the scene, the night when Fox contracted the illness, and was later admitted to hospital, as her husband Thomas spent 'hours' in the shower with the toddler trying to keep his fever and temperature down.
Heather said; 'Letting the vomit and diarrhoea rinse of them both as it came.'
Describing why Heather decided to take the photo, the mum said; 'It was a powerful moment for us as parents…as I sat in the shower with the two of them I was just overwhelmed with the scene in front of me. This man. This husband and partner and father. He was so patient and so loving and so strong with our tiny son in his lap.'
Heather's other children, Lillian, seven, Leena, four, and Fox's twin Persephone, two, are all documented in her family photo series on her blog but this is the first time Heather has experienced such backlash.

Heather said; 'I stepped out and grabbed my camera and came back to snap a few images of it and, of course shared them. I was taken aback by how many people missed the story or didn't even look past the nudity to find the story. They were just hung up on them both being nude and being in the shower. I had crossed a line. It was too intimate. It shouldn't be shared publicly.'
Now Heather is fighting back against the criticism, telling others; 'My family may be different than yours. But, that doesn't make your way right or my way wrong. You may never take images of your family like I do... you may never share images of your family like I do.'
'But, that doesn't give you the right to silence my voice. To take away my right to share our experiences in an uncensored way.'
Most commenters have supported Heather reposting the photo, Betty Lee-Hampton said; 'People should judge less and love more.read before judging all I see is love between a father and his son. Great job mom continue to love your family mom.'
Continued below...
While a few continued to criticise, including Xenia Opperman, who said; 'You don't have to share your sick children and naked man with the word sorry.'