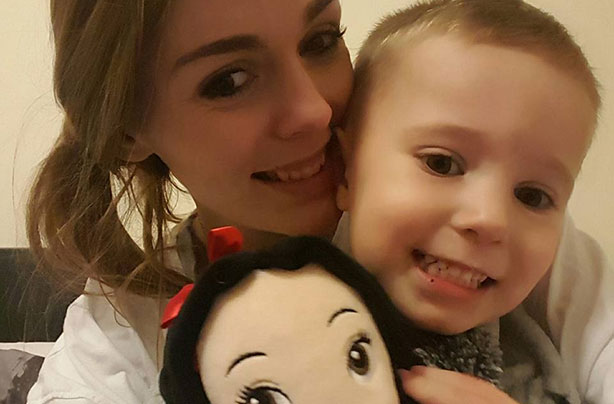 A mum has written a heartfelt open letter to a woman who 'judged' her son for wearing a Disney princess outfit to school.
Haylee Bazen, who is mum to three-year-old Zackary, was taking her son to school when the onlooker interrupted their conversation to criticise Zackary's outfit.
Taking to Facebook to vent her frustration, Haylee wrote, 'To the lady at the bus stop who felt the need to interrupt my conversation with my son.
'I am NOT sorry you didn't like how he was dressed nor am I sorry that you didn't like our discussion topic of who our favorite Disney Princess is (Snow White obviously).
'Zackary is my 3 year old son and he can be who he wants to be. Today he was a Disney princess and YES I did send him to school like that.'
She went on to explain that Zackary wanted to wear the outfit so he could sing Frozen anthem 'Let It Go' for show and tell in front of his classmates.
'He plays with cars and dolls, princesses and pirates. He rides his scooter or pushes his pram. He wears zombie face painting or lip stick and if he choose to wear a dress he can!
'So next time you see us, dressed as a princess or cowboy, keep you disapproving stares to yourself and unless you want to tell him how great he looks keep your poisonous words to yourself too.
'Your the one that should be embarrassed to leave the house not us!'
Zackary's obsession with all things Disney began after Christmas, when he fell in love with a pantomime Snow White. In February, he wanted to go as the princess for World Book Day, and after discussing the idea with his teacher, Haylee decided to let him wear whatever he wants.
'Now when I go shopping with him I don't see things as just simply girls and boys I see it as stuff he likes and stuff that he wants,' Haylee says.
'I literally couldn't believe what I was hearing when this woman stopped us. She asked me if I was punishing him and if I'd put him in that dress because he'd been bullying girls. She told me that we should be embarrassed and that boys shouldn't wear dresses but if anything she's the one who should be embarrassed.
'Zackary loves dressing up, some days he'll want to be a pirate or put on zombie make up but he also loves Disney and on this particular day wanted to wear his dress to school to show his friends,' she explained.
'For a middle aged woman to come up to us and question his outfit was just ridiculous - you might expect it from elderly people because they don't know any different but I was so shocked.
Continued below...
'I feel like I shouldn't have to justify my son to anyone, his whole family is so proud of him and we all love him so much but I decided to write the letter to tell people to leave us to it. '