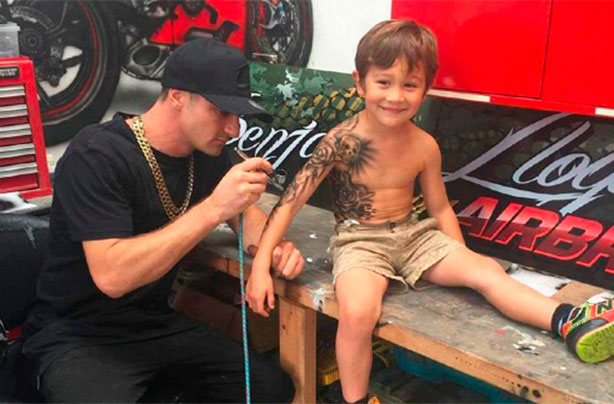 A tattoo artist has gone viral after it was revealed that he airbrushes tattoo sleeves on children to 'boost their confidence'.
Benjamin Lloyd was inspired to start his unique project after his own stepson Lincoln tragically died two years ago, and he wanted to bring 'smiles' to other children.
The New Zealander had started putting the non-permanent tattoos on Lincoln and his friends' children and posting photos to his Facebook page and social media, before his stepson tragically passed away.
Last week Benjamin captioned one of the photographs; '50 likes and I'll go to Starship hospital [Starship Children's Hospital, Auckland] and tat all the kids up.'
Little did Benjamin expect to wake up the next morning to almost 400,000 likes, 250,000 shares and 10,000 comments. He added; 'Looks like I'll be going to Starship.'
Each tattoo takes nine minutes to complete, a challenge when you have a young child to keep still, and uses custom non-toxic ink that can be washed off in the shower. Although Benjamin said; 'The only problem is they don't want to take a shower.'
Speaking to the New Zealand Herald he said; 'The kids are so amazed. As soon as they get the tattoo it boosts their confidence.'
Benjamin's own love of tattoos began while he was bullied at school for a burn scar on his hand and in an effort to cover up would draw on his arm and up his sleeve. 'I was teased every day at school... I just got better and better, eventually I had a line of people wanting me to draw on them.'
Fans have been really supportive of the practice. Karli Baker said; 'Turning your pain into something beautiful. Reminds people how truly amazing it is to make kids smile and let them live with no inhibitions. We all know how precious childhood is. I think your little Lincoln is up there beaming with pride!'
Sherri Bryant Ellis said; 'Absolutely wonderful for you to share your talent and put some smiles on these kids faces.'
Continued below...
'Keep up the great job! You were blessed with an amazing talent and apparently big heart.'