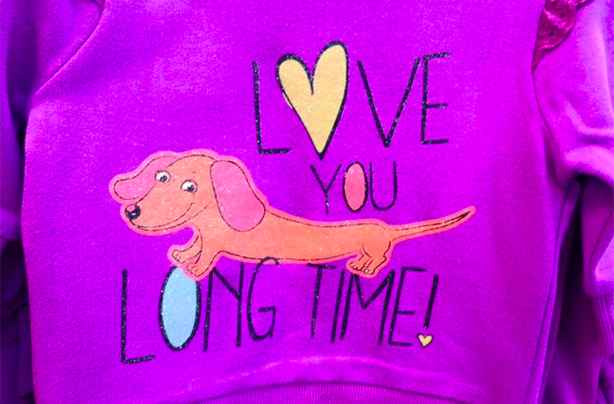 An Australian clothing brand has been criticised for designing 'sexist' and 'offensive' clothes for kids.
Best&Less is an Australian one-stop shop that stocks a huge range of childrenswear, but it's one top in particular that has upset people. A number of shoppers took to the brand's Facebook to express their dissatisfaction at one of their latest designs.
The item in question is a purple jumper made for little girls. On the front there's a sausage dog, along with the caption 'love you long time'. The phrase itself is said to have connotations of being used by prostitutes to offer their services, with people often using it in a derogatory sense towards Asian women in particular.
Best&Less shopper Brodie Boehm shared a picture of the purple jumper along with the caption, 'Please explain this highly inappropriate girls slogan on your little girls jumpers. Seen at the Gunnedah store today. Not only is it a sexual slogan but it also has racial connotations.'
Another mum posted a similar snap saying, 'who on earth thought that this slogan would be appropriate for a little girls jumper? My 5yr old loves sausage dogs & wanted me to buy this for her. NEVER.GOING.TO.HAPPEN! #bestandlessfail'.
And the jumper wasn't the only slogan top to invoke an outcry. Other tops for boys and girls had slogans that included 'hola ladies', 'I'm only here for the ladies', and 'act like a lady, think like a boss'. All of which have been commented on by shoppers.
Best&Less have responded by telling any customers who complained that they're looking into how the tops were given the go-ahead by management and that they'll have the comments pass on to their buyers. They also stressed that they were 'sorry if this caused any offence' and said, 'we certainly didn't intent it to have any negative connotations - sexual or racial.'
Continued below...
Despite the backlash other Facebook users have commented to say that they think the complaints have been blown out of proportion. Debbie Burton said, 'Yes really it's only people that make mountains out of mole hills that would pick up on somethings other people have never heard of and then thats what brings it to people's attention seriously.'