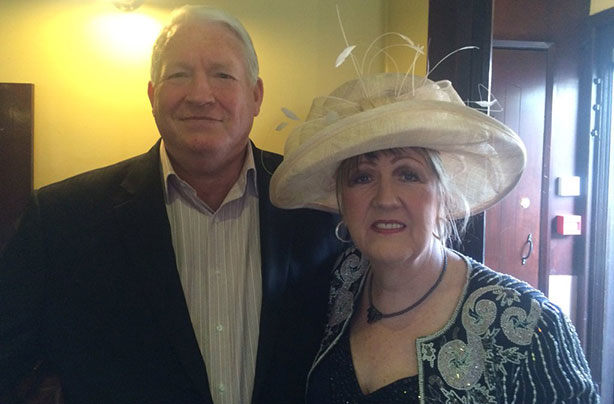 Wow - Gogglebox favourites Lynne and Peter McGarry have revealed that they have fostered over 68 children in the last 16 years.
The couple, both 66, started fostering children when their son George was 15 years old and have spoken about how rewarding they find the experience.
Over the last 16 years Lynne and Peter have welcomed kids of all ages to their home and have treated them all as part of the family.
Memories.... @EssexfamilyGB @BAFTA 😊👌✌️#gogglebox pic.twitter.com/WweJdrnI24

— George Gilbey (@georgegilbey) June 30, 2015
'I've just brought them up as my own,' Lynne told the Daily Star Sunday. 'On Mother's Day I get so many phone calls. They don't forget you. A lot still regard me and Pete as their parents,'
Lynne added that son George, who appears with the couple on the Channel 4 show, classed the other boys as his brothers and always shared everything with them. 'He's got a good heart. He does drive me mad, but he's a good boy,' she said.
The couple, who live in Clacton-on-Sea in Essex, have taken in children from troubled backgrounds and said that sometimes it was heartbreaking seeing the children taken away from their parents and siblings.
@EssexfamilyGB After 16 yrs of virtuous foster caring u've produced something much greater than 'ordinary'

Love U 😘 pic.twitter.com/RbBjJrjyL3

— George Gilbey (@georgegilbey) November 28, 2015
The couple even adopted 11-year-old Chris in 2000 after fostering him and have said they will carry on looking after children: 'We won't stop. We'll do it for as long as we can.'
The couple encouraged others to so the same, saying it has 'changed their lives for the better.'
Continued below...
Their son George, 31, welcomed his very own son last week with girlfriend Gemma, announcing the big news on Twitter by saying: '7lb 2oz little girl. Born 17.16. Amelie Iris Gilbey. Big thanks to everyone (especially nannies) for all your support.'