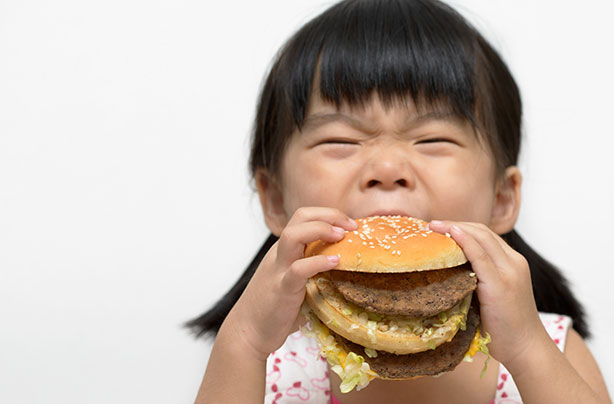 Almost 8 in 10 parents in the UK are unwittingly overfeeding their toddlers, according to new research.
In a survey of 1,000 parents, The Infant and Toddler Forum found that 79% of parents are regularly feeding their toddlers portions above the recommended limit, while parents are unaware of the health consequences of feeding their children too much too often.
The study also found that as many as 1 in 10 parents are feeding their young children adult sized portions of popular meals like spaghetti bolognaise and chicken nuggets and chips.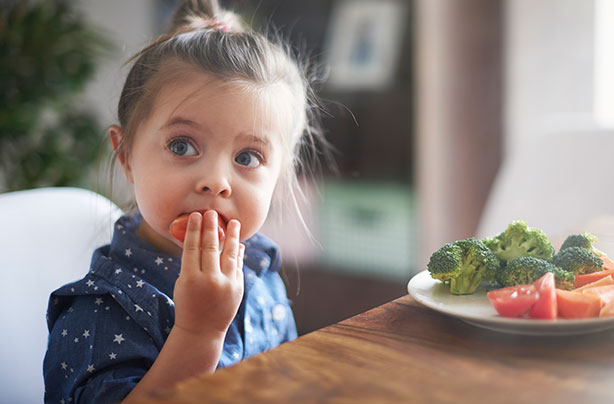 But this reason for overfeeding is thought to have come from many parents' worry that their toddlers aren't getting enough to eat. The survey found that 73% of parents said they were worried about their children eating too little, while only 25% of parents had worries that their child might become overweight.

Gill Harris, Child and Clinical psychologist and member of the ITF, warned of the danger of overfeeding at a young age. She said: 'Larger portions form our acceptance about what is an appropriate amount to eat and this becomes the 'norm'. In other words, how much you offer often determines how much your child will eat and habits learned in early life generally tend to persist.'

One of the main concerns was that too many parents use food and drink as a way to comfort children. Just over 35% of parents use food or drink to calm their toddler down. However, experts have warned that using food as a reward or to comfort or distract their pre-school child will encourage them to use food as a coping mechanism when they are older.


Recommended portions for 1-4 year olds
Chips: 4-8 thick cut chips
Dry cereal: 3-6 heaped tbsp
Berries: 3-10 small grapes or berries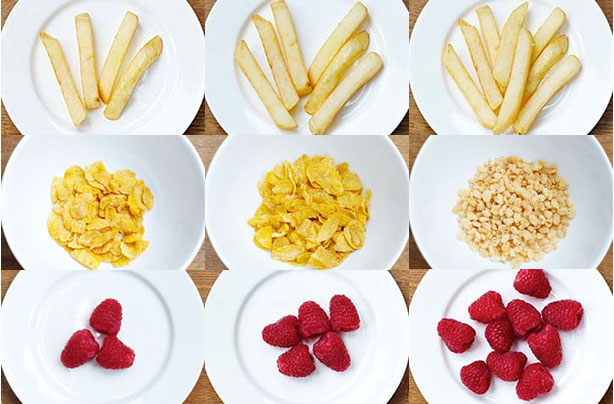 Bananas: 1/4 - 1 medium banana
Brocolli/Cauliflower: 1 - 4 small florets or 1/2 - 2 tablespoons
Apples: 1/4 - 1/2 a medium apple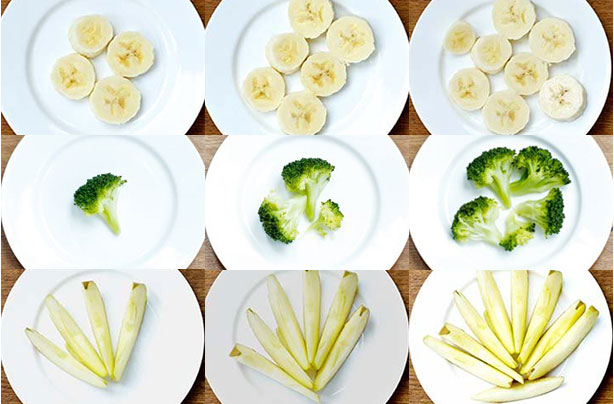 First-time-mum Layla Rogers, 29, said: 'I was shocked to find out I was giving my 18 month-old too much food. In fact, I've always worried more about my toddler eating too little rather than too much and I'd offer additional food and snacks in between meals to reassure myself that she was eating enough.'
'It's helped me change not just how much food I put on the plate but also some of those feeding habits that are ingrained in all of us such as encouraging children to clean the plate!', she continued.
Quiz: Can you guess which of these portions sizes are right?
To find out more about the recommended portion sizes for your toddler, visit
The Infant and Toddler Forum
for a full breakdown.
Continued below...
In response to the study, the Infant and Toddler forum have launched the #rethinktoddlerportionsizes camapaign to encourage parents to rethink how much they are feeding their young children and provide helpful guidelines.