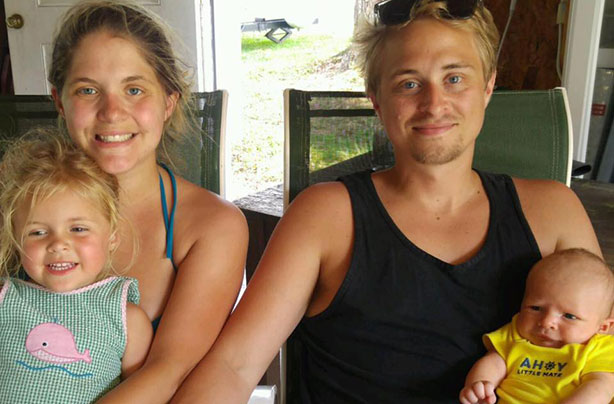 A mother's honest Facebook post has gone viral after showing the 'raw, stunning, messy, and freaking hilarious' aftermath of labour.
The picture, taken by Amanda Bacon's husband and posted to her own Facebook account, shows the new mum in a 'giant mom diaper', a combination of mesh underwear and padding worn by women who have just given birth.
'Motherhood uncensored,' she wrote alongside.
'I'm sharing this picture because it's real. This is motherhood; it's raw, stunning, messy, and freaking hilarious all rolled into one.'
'Having a baby is a beautiful experience, and the realities of postpartum life aren't spoken enough about. And definitely not photographed enough. Some people probably find this uncomfortable, but why?'
'I seriously don't get it! It's probably because this part isn't talked about. We all should try and educate, empower and embrace every aspect of childbirth, including moments like this. And do it while having a sense of humor. Nothing says welcome to motherhood like an adorable squishy baby, and a giant mom diaper.'
Edit: My husband didn't post this. He doesn't even have Facebook. I did.'
Since Amanda, who is mum to daughter Kaelyn and baby son Pierson, uploaded the image, it's been shared more than 115,000 times, and received over 93,000 comments.
Other mums were quick to compliment Amanda on her upfront approach, with one commenting 'I love this! Well done for having a sense of humour,' and a second adding, 'I remember standing like that feeling like another one could drop out at any moment. The nappies felt very safe 😂I did it 4 times so it can't be that bad'
'The first time you reach down there after and you don't even recognize yourself. Like a war zone. (For ladies who haven't done it yet, fear not, barring major stiches it's back to normal after about 3 days.) #powerfulwomen #vaginasareawesome' another agreed.
Continued below...
What do you think of Amanda's picture? Did you have a similar experience after labour yourself? Let us know in the comment box below.