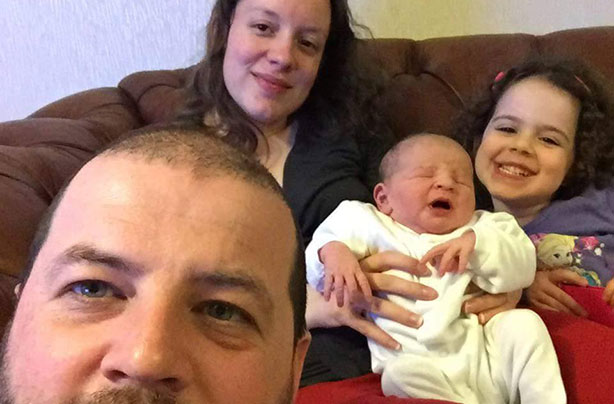 It's every parent's worst nightmare, but sadly that became a reality for mum Kayleigh Griffiths, when her newborn daughter Pippa sadly passed away from a
Group B Strep
(GBS) infection just one day after her birth.
Now, her parents are hoping to raise awareness around the infection - the biggest cause of meningitis in newborns.
'She'd been a little bit unwell that day,' mum Kayleigh told the BBC when speaking about the day leading up to her death. Sadly, Pippa stopped breathing while in Kayleigh's arms later that day.
Group B Strep (GBS) is a type of bacteria carried in the intestines by 1 in 3 adults, and up to 1 in 4 women carry GBS in their vagina.
If a pregnant woman is carrying GBS, her baby may be exposed to the bacteria around labour and delivery. For most babies this causes no problems, but for others it can be deadly - causing
meningitis
, pneumonia and blood poisoning.
Every year in the UK 75 sick babies die and 40 are left with permanent problems as a result of contracting Group B Strep at birth.
Pippa was airlifted to Royal Shrewsbury Hospital to be treated by a specialist crew from Birmingham, but sadly died the same day.
Kayleigh, who has another daughter Brooke, didn't know anything about the bug before she had Pippa. Now she and her partner Colin are calling for more choice and awareness when it comes to testing in pregnant women.
'I'd like for other pregnant women to be made aware of it and the dangers it poses,' she said.
'You never think something like this will happen to you.'
Currently the test is available on the NHS and can be provided by your midwife, or you can pay £35 for a test privately.
But Jane Plumb, who founded the Group B Strep support group, believes that not enough women know about the test: 'These lovely mums and their babies show all too clearly what GBS infection in babies can do.
Continued below...
'It's unforgivable that the UK isn't doing more to prevent these largely preventable tragedies. 'Raising awareness of GBS is vital if more avoidable infections in newborn babies are to be prevented.'