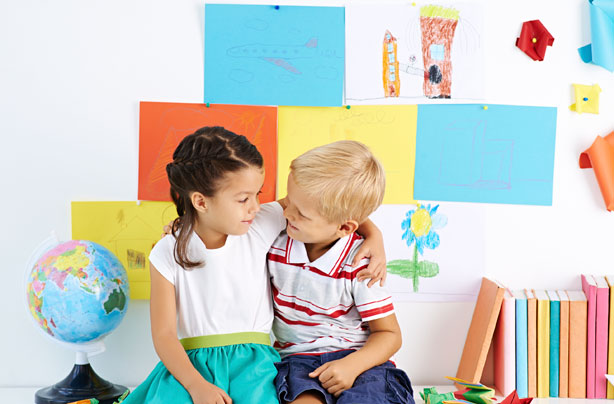 Whether you're a parent, a teacher or even a student, we know you're hanging on to the last few August days like your life depends on it, as the 'S' word fills you with dread.
The reality is September is coming, and with it comes hectic schedules, early mornings, an onslaught of stationary and possibly some tears at the school gate (we're looking at you, mums and dads!).
And it looks like Twitter knows how you feel. We've picked out the best ever back-to-schoolisms to prove we're all thinking the same thing. Prepare to have your faith in humanity restored as you realise you're not alone; they might just make you laugh too.
1. The mum that knows the true value of a shopping trip
School uniform shopping today.... Such a waste I could buy myself shoes......

— nellynoble (@NellyNoble) August 29, 2015
2. The mum saying what all the other frazzled mums out there are thinking
48 days. Not that anyone over here is counting. #BackToSchool

— Amy (@Amy_Odland) July 20, 2016
3. The 'you'll grow into it' uniform spot
Lots of too-big blazers and nervous, fresh faced little'uns in Victoria this morning #backtoschool

— Caroline Mills (@ccsaurus) September 3, 2014
4. The 'pleaaase just five more minutes before the chaos descends' moment
"#FirstDayOfSchool! Wake up, wake up, come on! First day of school!" pic.twitter.com/YNGneSCV8C

— Disney•Pixar (@DisneyPixar) August 24, 2015
5. Remembering those early starts take some getting used to...
Oh 6am, how I have not missed thee! 😴 #backtoschool

— Boss Lady (@BossLadyHarley) September 2, 2014
6. ...But then again...
Ok, it's been great spending so much time with my offspring but enough is enough. #backtoschool #motheroftheyear

— Sophie (@Sopherina) September 1, 2014
7. The mum who knows once they've gone upstairs, you've lost them forever
I need to remember my favourite #backtoschool #tip. Never let them go back upstairs! #makingmorningseasier #bringdownthesocks #parenting

— Chloe Girvan (@Mom_interrupted) September 14, 2015
8. When the summer holidays make you think some crazy thoughts
"I'm so glad tomorrow is Monday." <-----File that under things I never thought I'd say. #parenting #weekendsarehard #backtoschool

— Lisa Bartelt (@lmbartelt) October 4, 2015
9. The mum who's got her priorities right
One notebook, two bottles of wine. #backtoschoolshopping

— Rachel (@dontcalllmerach) January 13, 2016
10. This is certainly one way of getting round the morning school rush
Me: "What can we do to make mornings easier?"

7 y.o.: "How about you don't wake us up until later in the day?"#parentingfail #genius

— Mother Of Locusts (@MotherOfLocusts) June 29, 2016
11. The mum who loves the free child care otherwise known as school
You might not be quite ready to go #backtoschool, but I'm more than ready to return my kids to you. ;) #parenting

— Sue Cowley (@Sue_Cowley) April 10, 2016
12. Never. Live. It. Down.
That moment you realize you just called your teacher "mom" or "dad". #firstdayofschool pic.twitter.com/gSHpMkLZR8

— edutopia (@edutopia) August 25, 2015
13. When you need a cute animal video to get you through
Tiny bunny's only a tiny bit tired. Time to get ready for #firstdayofschool! pic.twitter.com/agOYP32Lcx

— Target (@Target) August 24, 2015
14. It's an A* from us Robbie
Back to school uniform, thoughts? #BackToSchool pic.twitter.com/e4eSnoPQH6

— Robbie Williams (@robbiewilliams) September 2, 2015
15. The realisation that there are some silver linings, like stationary sales
I am not going to lie. The office supplies section excites me. The #BackToSchool sales were meant for me. #EKMFunFact

— elaine (@_elainekm) July 20, 2016
16. Alternatively you could just go stationary mad sale or not
Went to Staples to purchase staples (ironically enough). Walked out with $37 worth of ink pens. #BackToSchool #TeacherLife

— Anita Groenwoldt (@GroenwoldtAnita) July 19, 2016
17. The moment your child gets put in a class with all their friends
#firstdayofschool, already?! *crosses fingers for Gryffindor* pic.twitter.com/JONcuLEiyB

— E! News (@enews) August 24, 2015
18. The mum that occasionally turns into the hulk
Shouty mummy is in the house! #firstdayback #getdressednow

— Morgana (@coffeeworksleep) February 24, 2014
19. When you're not sure if you're deaf or have they actually gone?
You hear that!? *SILENCE*.... that's the sound of half term being over.

— danni (@squishblog) February 24, 2014
20. The mum that forgot what she was in for
I'd almost forgotten what school mornings were like…. #WorldWar3

— Heidi (@Him_Me_Three) February 24, 2014
Continued below...
21. But, they are quite sweet really aren't they?
I'm missing Ruby I want her to stay at home and play rather than be at school :(

— Kimberley Tyler (@KimberleyJTyler) February 24, 2014