Backstreet Boys' AJ McLean has revealed the gender of his unborn baby.
Speaking to Entertainment Tonight, AJ revealed that he and wife Rochelle Deanna Karidis are expecting another girl to join their 3-year-old daughter Ava.
'A lot of girls in the house!' he exclaimed. 'I will take that over testosterone running around the house, to be honest with you.'
'All my boys have boys, so it's nice to have girls. Girl power all the way!'
He added that Ava was 'ecstatic' to become a big sister, saying: 'She has her own little baby that she's been tucking under her shirt like she's pregnant.'
'She's like, swaddling her babies now… She loves it, she's so sweet and she's just an awesome kid.'
AJ took to Instagram back in September to announce the happy news that Rochelle was pregnant with the pair's second child.
He posted a sweet picture to his 329,000 followers showing four pairs of Nike Air Jordans trainers, demonstrating that their family will be growing from three to four. He edited the photo to show a message which read: 'And than there were four #laborday' - taking advantage of the apt holiday hashtag.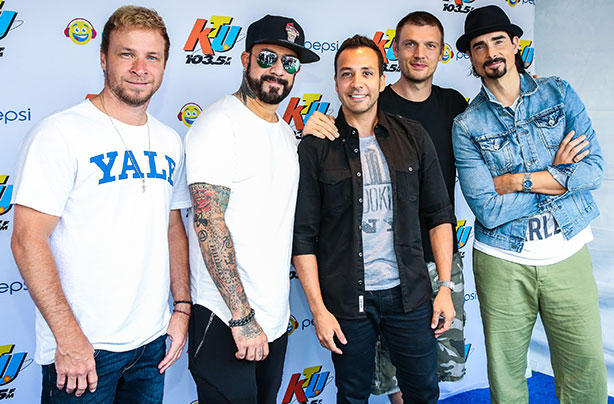 AJ with his Backstreet Boys bandmates
He captioned his photo with a very excitable message, showing how thrilled he is to soon be a father of two: 'So the Mclean family wil be expecting a new addition to the family next spring!! #laborday! Ha get it "labor" day! I'm a goof! #avaisgonnabeabigsister #baby2! Keep u all posted!! We're so excited'.
AJ's wife Rochelle also announced the news and similarly used Instagram to tell their fans. Using another picture of four pairs of Nike Air Jordans, she captioned her photo, '*THEN there were FOUR! Cats out of the bag! Couldn't be more excited to add another little to our family! Baby McLean #2 spring 2017! ❤️ .'
Poking fun at her husband she jokingly corrected his spelling mistake from than to then, tagging him in the post with the words 'Grammar error: @skulleeroz 😂' showing a crying with laugher emoji.
Less than 12 hours after the announcement, fans had already flooded both posts with well wishes, posting some supportive messages such as: 'Great news congratulations to you both' and 'Congratulations 👏 happy for you 😘😘'
AJ and Rochelle have been married since December 2011, after tying the knot in Beverly Hills. Speaking to InTouch about the positive impact his three-year-old daughter Ava has had on his battle with alcohol addiction, the star said: 'I can't stress how much my daughter is an inspiration to stay sober.'
Continued below...
'When I come home and she opens those big blue eyes at me, it's the most amazing feeling I could ever feel.'