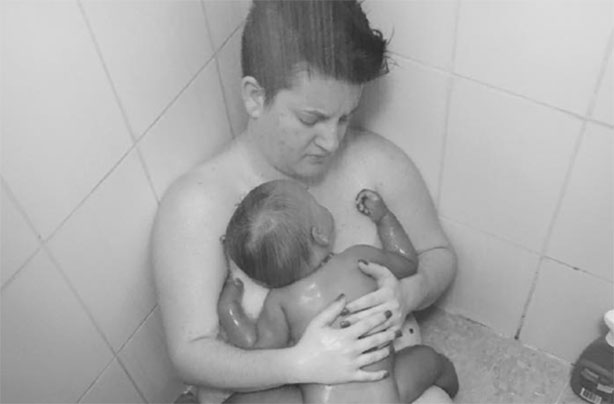 An Australian mum has shared a photo on Facebook of her exhausted attempts to soothe her sick child at 3.30am, and it's gone viral after thousands of mums related to the honest post.
Eden Clougher was having a difficult time when her baby reacted badly to an allergen and screamed all night in discomfort. The new mum sat up throughout the early hours of the morning with her child, trying to soothe her in the shower.
Feeling exhausted and desperate, a black and white photo was taken to capture the moment of 'what parenting looks like', which Eden decided to share on her Facebook page a few weeks later.
She wasn't to know the huge amount of attention it would receive, initially not even sure whether to post the snap, but it's since gone viral with over 50k shares.
Eden began her post revealing the hesitation she felt at sharing this moment, 'So, I've been debating over the last few weeks about posting this photo...This is what parenting looks like...' before telling the story of her situation, '3.30am sessions in the shower because she reacted to an allergen and screamed all night. It looks like love and devotion, and exhaustion and relief'.
She continued to describe the range of emotions she felt cradling her young child, 'It looks like stretch marks, and prickly legs, and raw desperation. There is beauty here... The beauty of silence... The hot water and skin to skin won. I needed it to win; I was out of options'.
Eden described how parenting is a mixture of 'genius and insanity' and the vulnerability she felt trying to help her child.
'I needed this photo. I needed to freeze this moment so that I can look back and remember the vulnerability and art that is parenting. The delicate balance between genius, and insanity.'
Mums all over the world have responded, sharing their own stories of feeling tired and hopeless when trying to do their best for their child, and congratulating Eden on being a great mum.
One Facebook user commented, 'You have captured on film how it feels to be an overtired, exhausted, sleep deprived, struggling mother who wants nothing more than comfort for her child before herself.'
Another said, 'Love this. I find the skin-to-skin so utterly comforting, even now that my babies aren't newborns anymore (waahhh 😭), so I can only imagine how much better it makes them feel when they're sick like that. ❤️
You're such an amazing mum Eden'
Eden thanked the Facebook users for sharing, writing, 'I'm absolutely gobsmacked... This has been shared almost 500 times in four hours. It's amazing how a moment like this can unite mothers from all over the world.
Continued below...
'To those who have inboxed me, Thankyou for your thoughts and compliments, they are much appreciated. X' so we can't imagine how she feels now its at almost 60k.'