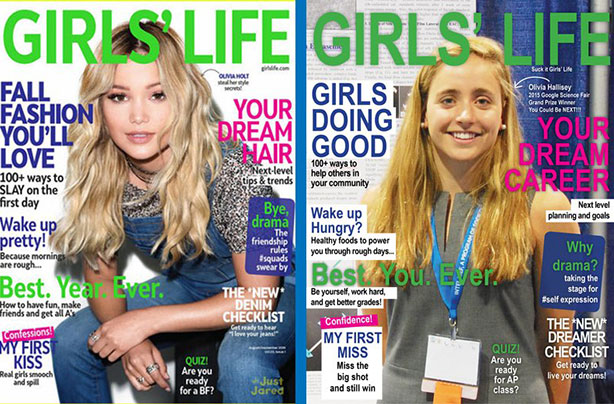 Magazines for teenage girls have often been criticised for the way they focus on issues about appearance.
But now a graphic designer has been praised for recreating a cover of Girls' Life magazine, after the original was branded 'cliché and sexist'.
Katherine Young designed a new cover for the popular American title after noticing the stark difference between the topics covered in Girls' Life and the male equivalent, Boys' Life.
Suck it #GirlsLife. #DoBetterhttps://t.co/KH3vl1p8AI pic.twitter.com/taHAFN4Ds1

— Katherine Young (@Katersbonnevill) September 8, 2016
While the cover of the magazine aimed at teenage boys included topics like 'explore you future' with pictures of science and technology, Girls' Life covered issues like: 'Wake up pretty!', 'Your Dream Hair' and 'Are you ready for a BF?'
Katherine first noticed this double standard when a picture of the two magazines was tweeted by author Jennifer Wright, who said: 'Why are you feminists always complaining? We treat boys and girls exactly the same.'
"Why are you feminists always complaining? We treat boys and girls exactly the same." pic.twitter.com/F4EFTzSJGI

— Jennifer Wright (@JenAshleyWright) September 1, 2016
Not happy with the way the girls' magazine focused on appearance, while the boys' magazine told its readers to aim high, Katherine decided to create her own cover.
In her new design, the headlines have been swapped to encourage girls to think about their future, including 'Girls doing good' and 'Your dream career'. She also changed the model on the front and replaced her with the winner of the Google Science Fair in 2015.
Katherine then tweeted a picture comparing the two covers, with the caption: 'Suck it #GirlsLife.'
The new cover has been met with huge praise on social media, with many saying they would much prefer to read Katherine's version.
https://twitter.com/StickySams/status/776610711514456065
Someone publish a magazine like this (or holler if it already exists). Wish I had this when I was a teen. https://t.co/eJlULsLemU

— Jordan K. Turgeon (@jordanturgeon) September 12, 2016
In response to the new cover, a representative from Girls' Life told Mic: 'We are so proud of every page in every single issue. Girls' Life serves a dynamic audience of 2.16 million tween and teen girls who have a variety of passions.'
'That's why every issue is packed with a rich blend of content centred on friends, family, fun, fashion, community, crushes, crafts, cooking, confidence, futures, fun, fashion, role models, style, self-esteem and more.'
Continued below...
'This meaningful mix is why we've won dozens of awards for our high-quality editorial and outstanding photography — and why we've been the #1 magazine for tweens and young teen girls since 1994.'