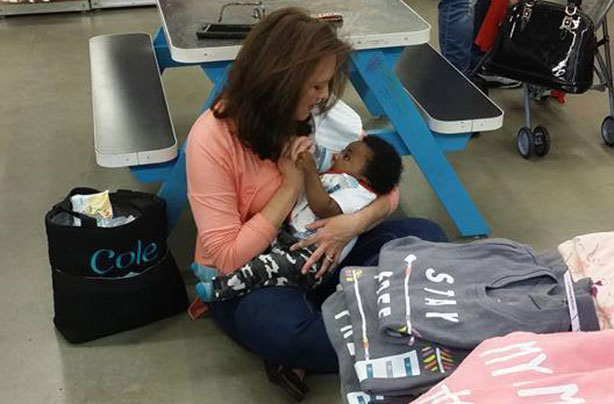 Trying to shop and and look after a child is no easy feat.
Not to mention how traumatic it can feel when you're baby starts screaming and in public and there's no one to help.
However, one mum has praised a shop worker who went out of her way to help her when her baby needed feeding.
Danyale Peterson had been shopping for just a few minutes Old Navy (an American clothing shop), when her son Cole woke up and 'began to get fussy'.
As Danyale made her way back to the font of the shop to leave her shopping and go get his bag, an employee, who Danyale named 'Lora', stepped in to offer her help.
Danyale explained in a Facebook post: 'She asked if I wanted to hold him while I went to the car. I hesitated at first quite naturally but accepted.'
And it seemed to have worked, as Danyale added: 'Before I even made it to the door, Cole had stopped crying. When I returned he was still so calm and content She was so in love with his scent she said 'Oh my God, you have to smell this baby' to her coworker. I laughed.'
But while an ordinary shop assistant might have passed baby Cole back and moved on, Lora went one step further to help the mum.
'She told me she had 30 minutes of time she could care for him while I shopped. She would sit on the floor and feed him too if I got the bottle ready. I let her. She even walked around the store with him after he ate talking to him-telling him he could be a President or Teacher, whatever he chose to be and kissing him softly on his cheeks and head!' Danyale continued.
The mum took to Facebook to praise the kindness showed by Lora, adding that she even helped walk them to the car. Danyale added that Lora told her her it was 'such a blessing to have been able to care for him while I shopped, and wished us safe travels back home. Kind is an understatement for what this woman did!'
Continued below...
This really shows the importance of the kindness of strangers and makes the prospect of shopping with a baby a bit less stressful! Have you ever had any similar experiences when out with your kids? Let us know in the comments below...