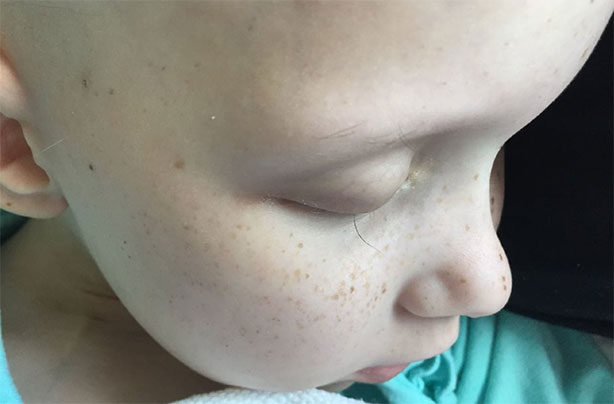 A brave dad has shared a heartbreaking photo of his little girl that shows her one remaining eyelash after undergoing months of chemotherapy.
Andrew Brown uploaded the picture to Facebook, which shows his seven-year-old daughter Hayley with her eyes cast downwards, with one single, long eyelash.
The father of four captioned the picture, 'That one last eyelash has been hanging on, on it's own, for a few weeks now'.
Hayley was diagnosed with cancer in June after doctors discovered a five centimetre tumour growing inside her nose. Her family were told the best treatment would be eight months of chemotherapy and radiotherapy but unfortunately, as the family are based in Australia, this will cost a lot of money.
A friend of the family Andrea Huggins has set up a Mycause page to help with treatment costs, which so far has raised just over half of it's $5,000 target.
Andrea commented to The Daily Mail on her delight at seeing Hayley's story being shared, 'Every time I see that photo, I think "make a wish", it's just so moving. Anything that can be done to help that beautiful family, we need to do.'
Hayley's long and beautiful eyelashes were the talk of the hospital, her dad has explained, with staff commenting on how long her eyelashes were right until the last one eventually did fall out.
Speaking to website Kidspot he said, 'Right through people, including her older sister, always said how jealous they were of her beautiful big eyelashes. She doesn't really realise they're gone, people stopped talking about them. She probably doesn't even know her eyebrows are practically gone.
Hayley still has a way to go with her different treatments, and she's scheduled in for another five weeks of radiation and two more rounds of gruelling chemotherapy.
Continued below...
From there doctors will make more plans to continue to shrink the tumour, which thankfully has already began to shrink in size from the current treatments being used.