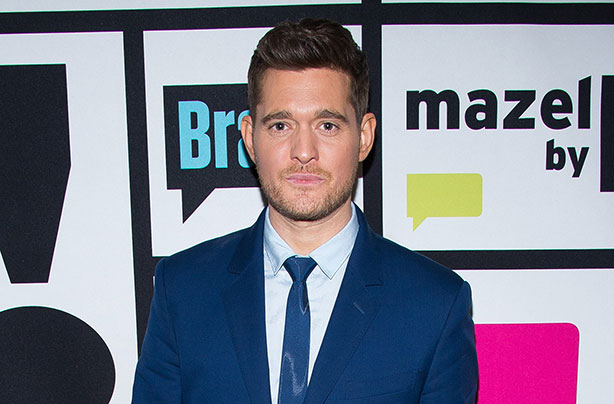 Michael Bublé has stepped away from his presenting role at this year's BRIT Awards to care for his three-year-old son Noah who is battling cancer.
Michael was set to make his presenting debut at this year's star-studded BRIT awards, but unfortunately the talented singer has had to pull out due to his son's condition.
The Canadian musician is known for his charming persona and electric stage presence, making him a perfect choice to host an awards ceremony. But as BRIT bosses hold their first meeting ahead of the big night on 22nd February they've been told to find a new presenter.
Noah has been given a 90% chance of survival by doctors, and although Michael cancelled all work commitments at the time of his son's heartbreaking diagnosis last year, it was thought he would still attend the BRITS.
Emma Willis commented on Michael's cancellation when she hosted the nominations unveiling show The BRITs Are Coming last week, and it's thought that she could step into his shoes for the main event.
Showing her support for Michael she said, 'I was honoured to be asked to be part of the BRITs and do the launch.
'I'm hoping Michael will do the main show, because if he does then it means that all is well for him. I'm not thinking about me, I'm thinking about him and hoping everything is good.
'I just want an invite to the BRITs if I'm honest. I want to go and let my hair down - that would be nice. Not that I've got any hair to let down. It would be fun.'
Last year, Noah reportedly started chemotherapy, after claims he was diagnosed with liver cancer following a liver biopsy.
According to reports in Argentinian magazine Gente, three-year-old Noah started four months of chemotherapy to tackle the disease.
Daniela Lopilato, the elder sister of Michael's wife Luisana, opened up about her nephew's illness in the magazine, saying: 'If God wanted it discovered that way, it's because he wants to save Noah.
'Cancer is a horrible illness but we have faith in Noah being able to overcome this.
'We know he will. The time to start a long and very difficult treatment has come but it's got to be done.
'They say children are normally strong to put up with chemotherapy and my nephew is a warrior.'
The magazine also reported that doctors in Los Angeles confirmed Noah's illness by carrying out a liver biopsy following his initial examination at a clinic in Buenos Aires.
This further development came after Michael posted a statement on his wife's official Facebook page revealing their devastation at the diagnosis.
Noah had travelled to the United States with his mother and father due to concerns they had about his health. He was then diagnosed with a form of
childhood cancer
.
'We are devastated by the recent cancer diagnosis of our eldest son Noah who is currently in treatment in the United States,' Michael wrote.
'We've always talked a lot about the importance of the family and the love we have for our children.
'Luisiana and I are going to spend all our time and attention to help Noah to get better, by suspending our professional activities for now.'
'During this difficult time, we ask that you pray for him and please respect our privacy. We have a long road ahead of us and we hope that with the support of our family, friends, fans around the world and our faith in God, we can win this battle.'
According to Perez Hilton, Noah's doctor initially assumed Noah had mumps, but after looking into his health further, the cancer diagnosis became clear.
In addition to the magazine report, Noah's aunt, Luisana's sister, has previously spoken out about his diagnosis.
Daniela reported to an Argentinian television station that Noah's diagnosis has caused the family to be 'broken in half'.
She was unhappy about the rumours circulating about the type of cancer Noah has, saying:
'Michael and my sister will publish more statements and I can't say any more but it's not leukaemia or the central nervous system as people are saying. That's all I can say.
'The only thing I ask if that you don't speculate because not everyone has children and can understand what this means.'
Support has flooded in for the family, with messages from celebs including Shannon Doherty, who was diagnosed with breast cancer last year.
'I can't even begin to touch that one, to be honest, because it's a 3-year-old. I would imagine your child having cancer is devastating as a parent,' she said to ET Online.
'Just trust in your doctors. Make sure you have amazing doctors, a great team, and know that organizations like the American Cancer Society [and] Stand Up to Cancer, they are doing so much good for cancer. And [there is] so much research that we have much better chances now,' she said.
'Stay positive. That positivity, that outlook on life that you can get through something, it actually does get you through.'
Sharon Osbourne also tweeted her support for the family, offering her prayers.
Sending positive thoughts and prayers to @MichaelBuble and Luisana for their son Noah

— Sharon Osbourne (@MrsSOsbourne) November 4, 2016
In 2015, Noah was placed in hospital after suffering serious burns when he climbed onto a kitchen counter at home and burned himself with boiling water.
Fortunately, Noah didn't need serious surgery or skin grafts, but did need to change his dressing daily as his skin healed.
Michael was in the US at the time, and left immediately to see his family.
The family welcomed their second son, Elias, in January 2016.
Continued below...
We wish the Bublé family all the best at this difficult time.