Pink has revealed that she's heavily pregnant with her second child.
The singer, real name Alecia Moore, made the happy announcement with a stunning photograph posted to her Twitter account, accompanied simply by the caption 'Surprise!'
Surprise! pic.twitter.com/EMb1Id2ToC

— P!nk (@Pink) November 12, 2016
She is accompanied in the image by her daughter Willow, 5, who is cradling her mum's growing bump as they both pose for the camera in flowing white dresses.
Her 28.5 million followers were quick to shower the performer with congratulations, with one tweeting: 'Congratulations to you and your family 🎉❤️!!! What a wonderful blessing!!!' and a second agreeing: 'I'm so happy for you. The world is a better place with every child you make'.
The new baby will be the second child for both Pink, 37, and her motocross star husband Carey Hart, whom she married in Costa Rica in January 2006 after proposing to him by holding up a pit board reading: 'Will You Marry Me? I'm serious!' at one of his races.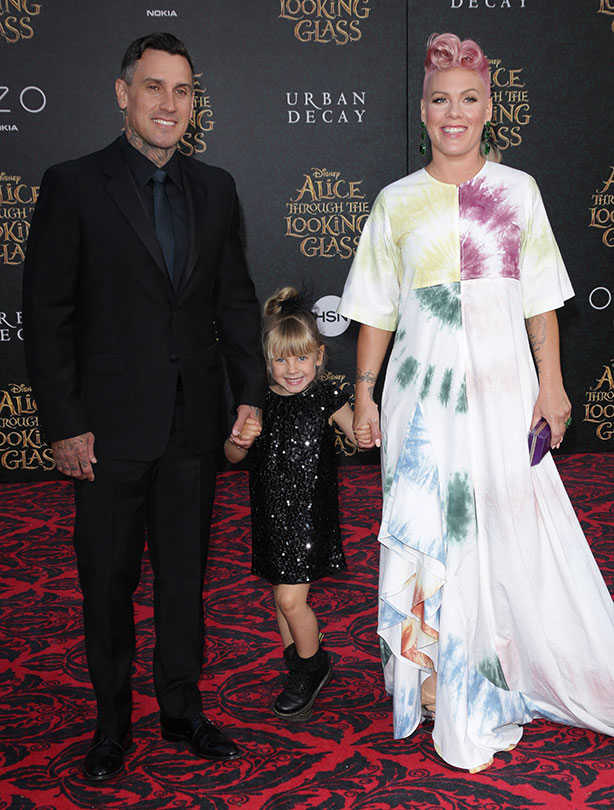 The pair have not yet revealed whether they know the gender of the new arrival, or revealed when the baby is due.
Earlier this year, Pink spoke to Good Morning America about her love of motherhood, saying: 'I love being a mama. I made a choice a long time ago that I was going to have a successful family and that is my absolute number one goal in life.'
She also previously opened up to PEOPLE on the subject, adding: 'I have lived a lot of life in a very short time, and you get hardened a little bit — you get jaded, you build up walls.' 'And when you see this little kid, and you get to watch them through infancy to toddler to little person, it's amazing.'
Continued below...
'You see how you were. When you watch this bundle full of love and light that's untarnished and untainted by heartache and any of the numerous things that change you, it's very healing. It's a miracle.'