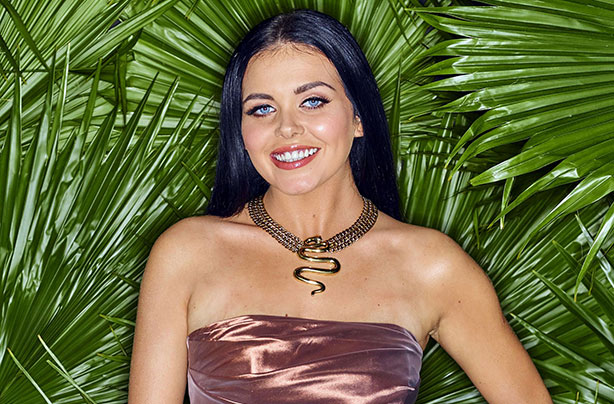 She's the Gogglebox star who won the nation's hearts with her bubbly personality and quick one-liners.
And having just been crowned Queen of the Jungle on ITV's I'm a Celebrity... Get Me Out of Here, Scarlett Moffatt seemed to be one of the happiest, most confident members of the camp - which is why it's so surprising to discover that the reality star, 26, wasn't always the outgoing girl you seen on screen today.
Speaking to The Sun, Scarlett opened up about being bullied during her time at school, explaining how she would be allowed to leave school ten minutes early 'so I didn't get beat up'.
'I would just walk around Asda's car park until three o'clock or up until the time I was meant to come home,' she said. 'I just felt so embarrassed to tell my mum and dad'.
'I would pretend to my parents that I loved school. Sometimes I would sit in the toilets at breaks just so I didn't have to wander around the playgrounds on my own.'
She added that a car accident which caused her to have plastic caps on her teeth and left her with Bell's Palsy, meaning that the left side of her face drooped, made the situation worse.
'I smashed my teeth and had all the nerves taken out, so I had a black tooth as well as a monobrow, and I was a little bit chubby, and then half my face was on the slide.
'There was just loads of things. One of the kids also saw me metal detecting with my dad, so you can imagine how that went down.'
'I mean, it's funny now. Jesus, it wasn't funny when I was going into school. It's worked out well now, it's built character.'
'I tried to fit in but failed miserably, so I just carried on being me as my dad said, "Just be you, just be yourself".'
Before her departure for the outback, Scarlett told The Sun's TV magazine that she was 'not like other kids'.
'I think it was the monobrow, and teeth that could chew an apple through a letterbox,' she joked.
'I was a bit weird. Even as a kid when I was 11 or 12, I would watch shows like Bottom, The Young Ones and Red Dwarf.'
'I was really ugly, I was really weird and I believed in aliens. Even as a kid when I was 11 or 12, I wasn't like the other kids in the school – I still wore my hair in pigtails. No wonder I got picked on.'
Scarlett said the bullying went on until around Year 9, when she switched schools and made some changes to her image.
'Puberty hit over the six-weeks holiday, all of a sudden I got boobs, my mam let me wax my eyebrows and I went and got my hair done. I just had this new-found confidence. I thought: I'm gonna go to this new school and I'm just gonna be me.'
'I still didn't try to fit in but, luckily, everyone was nicer there. You can't please everyone all the time. It's best just to be you.'
Now in the public eye, and having
recently lost over three stone in weight
, Scarlett adds that she has to keep up this philosophy of self-confidence when nasty comments pop up online.
'Although it's 2016, men still think they can form an opinion based on what women look like. I'll be honest, sometimes it does hurt when they say stuff. When you get it a lot, it's impossible to say that it doesn't bother you. I have learnt to never read the comments on websites,' she says.

Continued below...
'Being bullied made me realise that people will like you or not like you anyway, so you might as well be yourself and say exactly what you think.'