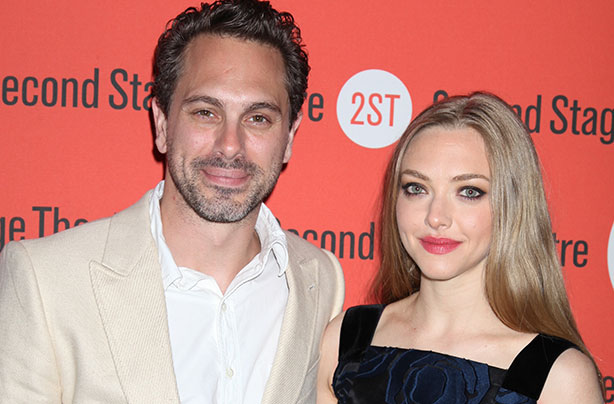 Actress Amanda Seyfriend and her fiance Thomas Sadoski have revealed that they're expecting their first child.
Amanda, 30, confirmed the news to PEOPLE magazine after attending an Givency press launch event wearing a black mini dress that highlighted her growing bump.
The pregnancy is the second happy announcement for the couple this year, as back in September they became engaged after six months of dating.
Rumours began circulating when Amanda was pictured wearing a silver band on her left ring finger whilst walking her dog in New York City.
A source close to the couple later told US Weekly: 'Tommy and Amanda recently got engaged and shared the happy news with family and close friends.'
The adorable Amanda Seyfried & Romain Spritzer at Givenchy in New York! pic.twitter.com/teL0s7IC9m

— dave lackie (@davelackie) November 30, 2016
Amanda pictured at the event in New York
The pair met whilst co-starring in off-Broadway play The Way We Get By in 2015, and started dating in March of this year on the set of US drama movie The Last Word.
Their marriage will be the first wedding for Amanda, who has previously dated actors including Josh Hartnett and Ryan Phillippe, and the second for Thomas, 40, who split from his previous wife Kimberly Hope in summer 2015 after eight years together.
The baby will be the first child for both of them.
Amanda previously said that the wedding would not be a traditional affair as she wasn't planning to wear white to the ceremony.
'I got married so many times in my life - on-screen. I don't want a white dress!,' she told E! News. 'I've worn so many of them.'
'The fact is, that kind of stuff is less about the ceremony and more about the commitment. So it's like children. That's where it's at, right? For me. But it's different for everybody.'
Continued below...
Speaking of her future children, she added: 'I'd like to have one in the next four or five years. And the second one can happen between 35 and 40. Or I can adopt... It's fine. I definitely want a couple of kids.'