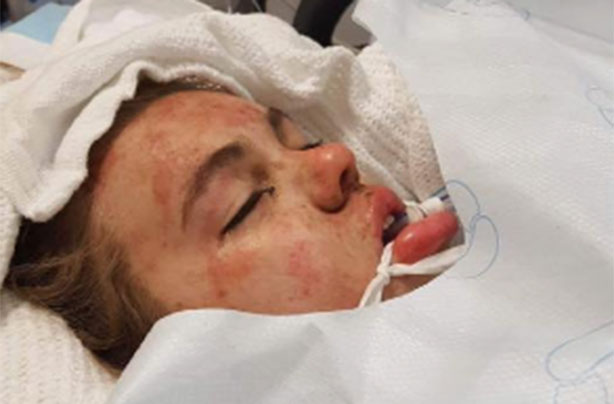 A devastated mum has posted a desperate plea to Facebook, warning teenagers of the effects of taking ecstasy pills after her 16-year-old daughter was left in a coma.
Worried mum Kerry Robinson posted heartbreaking pictures of her 16-year-old daughter Leah to Facebook, to warn other teenagers of the dangers of drugs after she became seriously ill over Christmas.
Kerry, from Wigan in Greater Manchester, posted photos that show Leah unconscious in a hospital bed. The now viral images, which show the teen surrounded by wires and machines, have been shared nearly 2,000 times as hundreds of shocked parents continue to spread her warning.
Her first post on Boxing Day relives every parent's worst nightmare, 'Head chocker, my daughter in ad a brain scan and put in a coma cos she took an ecstasy and she in a bad way and I can't get ozy , plz let there b a God and Leah be ok , I love her so much xxxx'
Kerry then posted a picture which showed her daughter still not awake and being supported by machines after being put into a coma. Captioned, 'This is what ecstasy does wen u take them , my baby girl , plz b ok xxx plz don't take them xx', Kerry attempted to warn other teenagers.
Luckily Leah was able to pull through, and Kerry shared another picture showing her daughter awake but looking visibly distressed sat up in bed, seeming to be confused and dazed.
Kerry explained that thankfully her daughter was going to be okay in a caption that read, 'She goin to be ok , Iv seen her and she talkin and thanks every one for sendin messages , I hope no other kids AV any more ov the tablets wats goin around xx'.
Friends and Facebook users commented with their well wishes for the family, commenting on the picture with messages like 'so happy your daughter leah is ok,she must had a guardian angel looking down on her xxx' and 'Glad to see she is OK lost a good friend like this when was at school so know what damage it does to everyone she'll never touch them again I bet but good to u all xxx'.
Thanking social media users for their messages, Kerry reminded parents that her main priority was to discourage other young people from taking these pills.
'Thanks everyone for sending messages. I hope no other kids have any more of these tablets. I put the picture up so no other kids would think of taking these tablets again. Yes I blamed myself all the time but kids will be kids and try stupid stuff.
Continued below...
'She suffered hypothermia as well and she's very lucky they got to her in time. I just hope kids will think twice before taking these pills.'