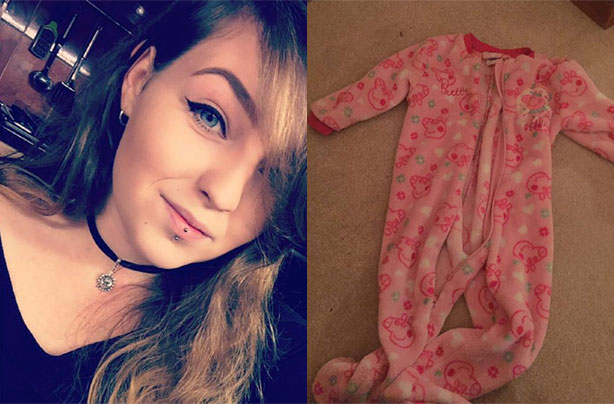 A mum has opened up about the terrifying moment she saved her daughter from choking on the zip of her onesie.
Katie Price took to Facebook to warn parents after she put her daughter Sophie to sleep in a Peppa Pig onesie. However, Katie revealed that Sophie was left 'shook up' after the zip went too high up and stopped her breathing.
She said: 'Parents who own these zip up onesie Jammies similar to this or the same, DO NOT put your child to bed wearing this!!
'I'm so thankful Sophie decided to climb in my bed an hour ago because if she didn't I don't know what could have happened.
Sophie went on to explain that while she first thought her daughter was unusually quiet, she soon realised it was something more serious.
'She was so quiet in bed with me, I hear a weird noise and I turn around to her being choked by her onesie, the zip was too high on her neck and stopping her from breathing, she couldn't even tell me or try get my attention because she was suffocating!' Katie explained.
Fortunately, thanks to her quick reaction, Katie was able to stop her daughter choking, and little Sophie was unhurt.
She added: 'Thank god I noticed. She is a little shook up right now of course, but she is fine!'
However, Katie has now warned parents of the hidden danger behind onesies, and to take care when putting little ones to sleep if they're wearing anything with a zip.
She said: 'I will never buy these again. I'd recommend any parent out there with these to do the same. Who would have thought a simple onesie could almost kill a child!'
The mum also posted an update explaining that the onesie was the right size for Sophie, and there was no warning that sleeping in it could cause choking.
'The onesie label does not have any warnings about not sleeping in it. The onesie was not too small, it fit nicely.
'This was also the first time I ever put her to bed in this, my house is freezing at night, I didn't once think that would happen.'
Continued below...
The post has already been shared over 9,000 times with many other mums sharing their own experiences. One mum suggested using pyjamas with buttons so you can fasten it just below the chest.