Kate, The Duchess of Cambridge, is officially pregnant again!
Kate and husband Prince William revealed that they were expecting their third child with an official statement on the Kensington Royal Twitter account.
'The Duke and Duchess of Cambridge are very pleased to announce that The Duchess of Cambridge is expecting their third child,' the tweet read.
'The Queen and members of both families are delighted with the news.'
The note went on to explain that as with her previous two pregnancies, The Duchess is suffering from
Hyperemesis Gravidarum
, and so would not be attending an official appearance today.
Read the press release in full ↓ pic.twitter.com/vDTgGD2aGF

— Kensington Palace (@KensingtonRoyal) September 4, 2017
They have not yet confirmed whether they are expecting a boy or a girl, or when Kate will begin her maternity leave from her royal duties.
The new baby will join siblings
Prince George Alexander Louis
, whom the couple welcomed in July 2013, and
Princess Charlotte Elizabeth Diana
, born in May 2015, who will undoubtedly be delighted to have a new brother or sister to run around the palace with.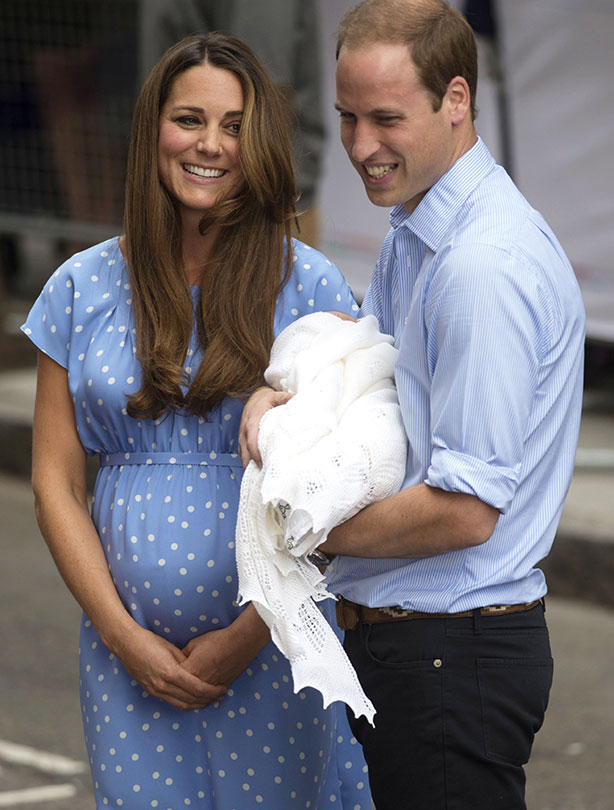 Kate and William pictured with Prince George shortly after his birth
Hyperemesis gravidarum is a severe form of morning sickness which affects around 15% of all pregnancies and can result in dangerous levels of dehydration.
When she was pregnant with Princess Charlotte, the sickness cause the Duchess to confirm her pregnancy before the recommended 12 week mark as she was forced to cancel public engagements because of her illness.
The pair had their second child, daughter Charlotte, in 2015
During an appearance that Kate was due to have attended at the time, William said of Kate's condition: 'She's feeling OK thanks. It's been a tricky few days, a week or so. We're just basically thrilled, it's great news. Early days, we're hoping things just settle down and she feels a bit better.'
Continued below...
'But it's important that we all focus on the big news, the big international and domestic things going on at the moment. I'm going to go and look after her now.'