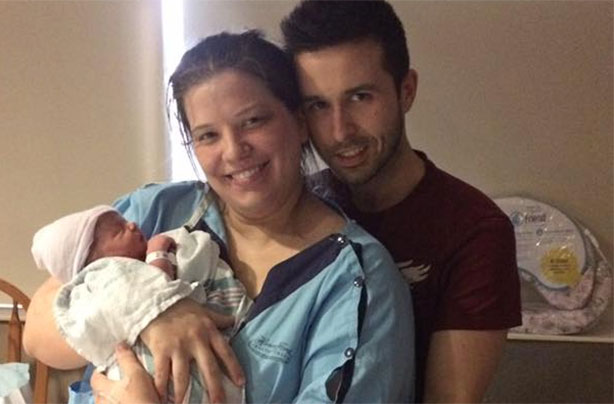 A new mum has warned other women not to 'ignore the itch' after itching during pregnancy turned out to be a symptom of liver disorder that could have led to stillbirth.
Christina DePino began to suffer with extreme itchiness late into her pregnancy, but initially put it down to moving to a drier climate or a
pregnancy symptom
.
But when her scratching became so severe that her skin began to bleed, she knew there was something wrong.
Speaking to CBS news, Christina remembers how painful the constant need to scratch became: 'The itching was so severe that I would wake up and I wouldn't be able to go back to bed, and my legs and arms were scabbed and bleeding from the uncontrollable need to scratch.'
At 36 weeks, the 28-year-old was diagnosed with a disorder that impairs the flow of bile from the liver, called intrahepatic cholestasis of pregnancy. She was warned that if she did not deliver her baby quickly, she could suffer a stillbirth.
Thankfully, just a week after being diagnosed, Christina was induced and gave birth to a healthy baby, but is now encouraging other mums to look into itchiness during pregnancy.
'My doctor explained that while not all the reasons are understood, after 37 weeks, patients with ICP are at a very high risk of having a stillborn.
'He also explained that induction was still my choice, as it is possible to carry a baby to full term and not have a stillborn.'
Christina and her husband Aaron decided that inducing their baby was the best course of action for them, but the mum is now on a mission to try and prevent the same thing happening to another family.
In a viral Facebook post, the mum recounts how friends encouraged her to go to her doctors, which is when she discovered there was something deeply wrong.
'Started having severe itching a few weeks ago, (it was keeping me up at night) thanks to a little Facebook complaining & the urging of Jennifer, Britney & Monica, I got the itch checked out & found out I had pregnancy Cholestasis, which is basically harmless for me - except for the crazy itching - But could have caused a still born after 37 weeks!!
'I was officially diagnosed last week and had to get her out this week! We are so blessed! Thanks guys for giving some amazing advice which may have just saved our precious girl's life! Yeah We are SO BLESSED & in awe!!!'
Continued below...
Now Christina wants to tell other mums her story, saying, 'Now I will be the crazy lady running around telling all the preggie ladies to beware!'