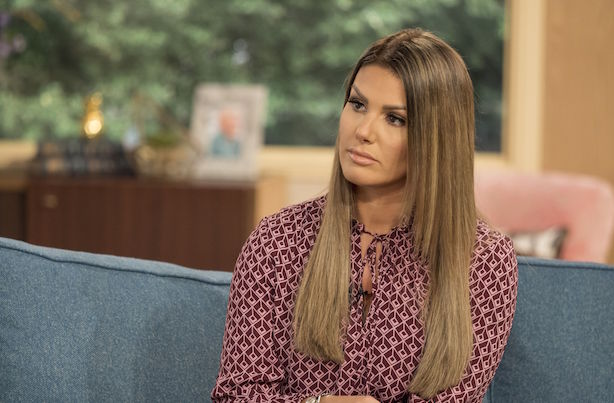 Rebekah Vardy has opened up about the horrific comments sent to her and her children on social media platforms.
Rebekah, an outspoken child protection advocate and the wife of Leicester City footballer Jamie Vardy, revealed that her harrowing experience of dealing with online abuse, the worst of which directed rape threats at her two year old daughter Sofia.
Rebekah spoke honestly about her experience on This Morning, detailing her harrowing experience with internet trolls and the abuse her family frequently experiences on social media. More specifically, she referenced the backlash on a photo on her personal Instagram account of her daughter Sofia dressed in Jamie's Leicester City football kit.
In a clip of the upcoming Channel 5 documentary Celeb Trolls: We're Coming to Get You, Rebekah revealed tearfully that one user had written that two year old Sofia 'deserved to be raped' in the comments.
'I'm really thick-skinned... but bring my kids into it and it's a whole other level,' she said on This Morning.
Jamie and Rebekah chose to take the case to the authorities in order to protect their family, she explained on the morning talk show. She described how she was afraid to leave her house out of concern for her four children, and how, with the help of the police, they were able to track down the user's IP adress, but it unfortunately led to a dead end.
'The person was actually in India, outside the UK jurisdiction,' she revealed, adding that it had instilled in her a new drive to make sure online trolls were held accountable for their actions.
She went on to call for stronger measures against people who perpetuate online abuse, saying: 'If someone is able to post abusive things online, they should be prosecuted for it. They should be able to be tracked down and be found...just because you're hiding behind a keyboard doesn't mean you can get away with it.'
Currently, the UK does not have dedicated anti-cyberbullying legislation but there are a
number of laws
that have been amended to combat it including the Protection from Harassment Act 1997, Malicious Communications Act 1988 and the Criminal Justice and Public Order Act 1994. Last October, the Crown Prosecution Service also released
a firm statement
on their renewed efforts to 'help prosecutors identify and effectively prosecute hate crime on social media.'
Continued below...
When asked if she had considered shutting down her social media accounts to protect her family, Rebekah said, 'If I do that then] the people who are bullying and the trolls, they win. If I want to come off social media I'll do it for me... I'm proud of my kids, I'm proud of my family. Why shouldn't I share that?'