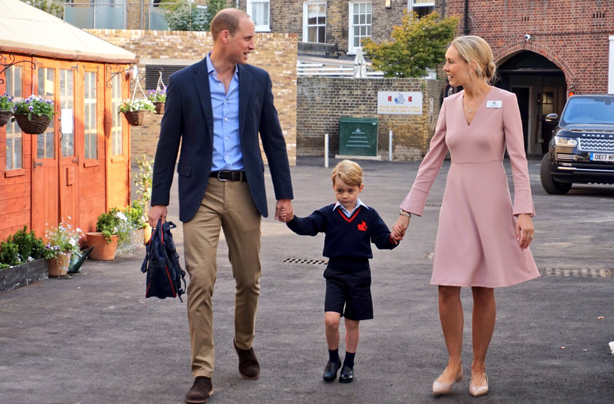 Prince George's primary school, Thomas' Battersea in London was dubbed 'slightly chaotic' in the Good Schools Guide. But what else do we know about the establishment attended by the future King?
It's hard to believe that
Prince George
is already old enough to go to school - it seems like it was just yesterday Kate Middleton stepped out with him swaddled in her arms, waving from the steps of a hospital.
Now he's moved on from nursery and his Montessori education, and entered an establishment that
the Good Schools Guide has declared to be 'busy' and 'slightly chaotic'
- eek!
Since the
photos from his first day at school arriving at the gates with dad Prince William
and shyly greeting his teacher, we haven't seen much of Prince George. So what does a day at Prince George's primary school look like for the young royal?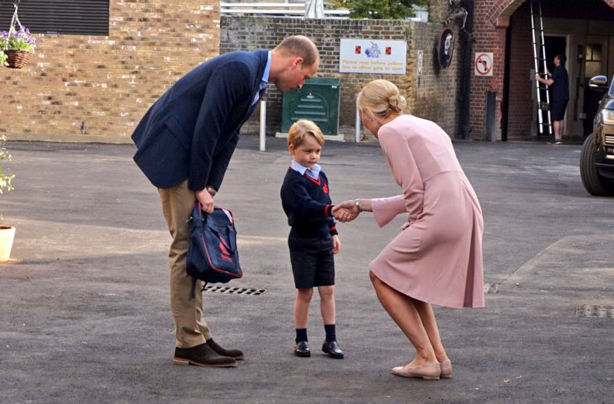 Here's everything we know so far about Prince George's primary school so far...
Where will Prince George be attending primary school?
Prince George will be joining Thomas's Battersea this September 7th, a co-ed school with 560 students aged between four and 13. Although the site proclaims that they have a history of academic success, the school's priority lies with promoting 'a strong sense of social responsibility' and 'core values' such as 'kindness, courtesy, confidence, humility and learning to be givers, not takers'.
The school is located in a grade II listed building, with a large courtyard, sports ground, rooftop playground and garden area. It's also just a stone's throw from Battersea Park and other recreation centres, a great area for extracurricular activities.
What will Prince George's uniform look like?
The
boys' uniform
for Thomas's Battersea is a navy and crimson affair, with dedicated winter, summer, sports, art and even ballet uniforms for the children. As he'll be starting in the colder months, he will be expected to wear a dark blue blazer, V-neck jersey, bermudas, gloves and hat paired with a contrasting red polo neck and socks. In the summer, the red polos are swapped out for light blue shirts and a white hat if the sun's out.
The school also has a specific navy sports uniform and depending on which school house Prince George is assigned, he will be expected to wear their colours. Although the girls will be expected to wear leotards for ballet classes, boys are only asked to wear black ballet shoes and socks.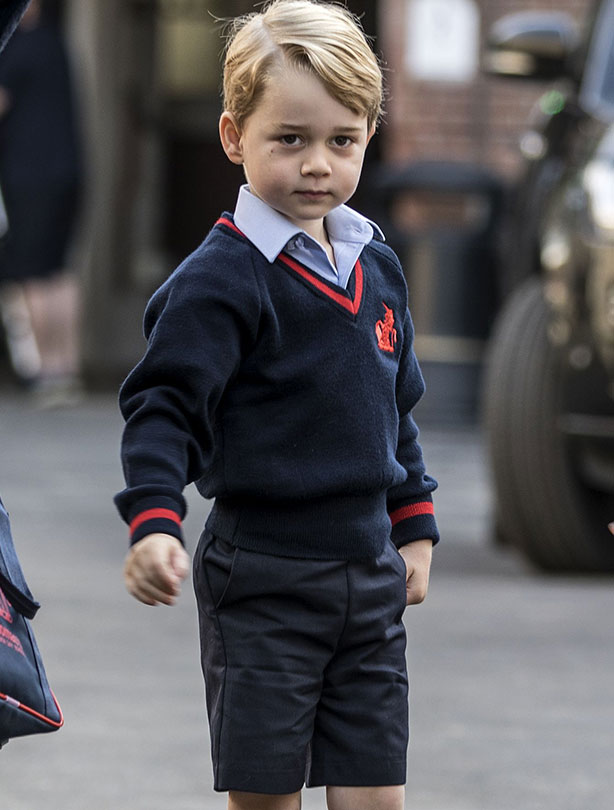 What surname will Prince George use at school?
As is tradition with the royals, Prince George does not actually have a surname. The royal family are typically referred to by the house that they belong to, however Prince William and Harry have been known to use 'Wales' in their surname - after their father Prince Charles. As the son of the Duke and Duchess of Cambridge, Prince George Cambridge could be a viable possibility.
The official website for the Royal Family did however suggest another option, stating 'If at any time any of [the royal family] do need a surname (such as upon marriage), that surname is Mountbatten-Windsor'.
How does Prince George feel about starting school?
Of course, George is ever so slightly too young to be giving public statements of his own just yet. However, mum Kate reportedly said during an appearance at the Royal Portrait Gallery back in March that she thinks her firstborn 'won't know what hit him.' Bless!
What will Prince George be learning?
Thomas's Battersea has an extensive and varied curriculum ranging from the standard subjects you would expect, to learning foreign languages from the age of five. Ballet is also a compulsory part of the school week for all pupils up to the age of seven. So Prince George will be in dance lessons, accompanied by a live pianist, from his first week. After Kate revealed recently that
Princess Charlotte has also started dance lessons
, it seems that the royal siblings will soon have at least one extra curricular activity in common.
What will school lunch be like?
Perhaps unsurprisingly, there is a strict emphasis on healthy food at Thomas's Battersea. The weekly lunch menu reportedly includes dishes such as lamb ragout with garlic and herbs, smoked mackerel with lentils and
pork stroganoff
with red peppers. The school website explains, 'We recognise that a balanced diet stimulates the brain, improves concentration, helps the children to study and assists with memory.'
In the winter when the temperature drops, Prince George and his classmates will be offered 'substantial meals' to keep them going. The school explains it offers, 'lighter lunches during the lighter days and more substantial meals when the days turn cold.'
So Prince George could look forward to enjoying 'freshly prepared fragrant
lamb
' and 'spinach and ricotta tortellini in a tomato sauce' to beat the chill over the next couple of months.
The school ethos at meal times is to make sure that all the children eat a balanced diet.
Continued below...
'Our goal is to not only persuade pupils to eat but, more importantly, to enjoy a balanced diet whilst at school' the website says.