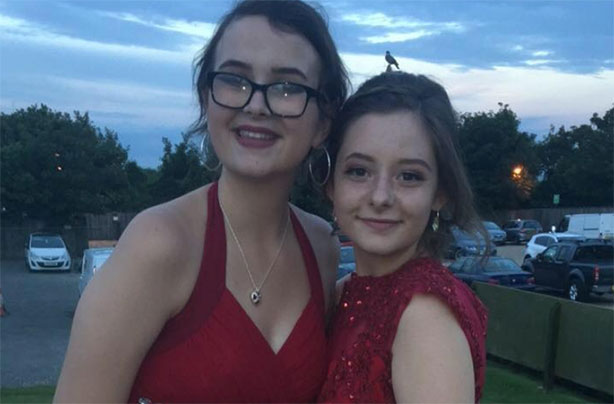 A teenager from Skegness has died from a rare condition known as Rapunzel Syndrome, after compulsively chewing her own hair.
16-year-old Jasmine Beever suffered from peritonitis, an inflammation of thin layer of tissue in the abdomen, caused by an infected hairball in her stomach. The infection caused an ulcer in her stomach which burst, eventually shutting down down her vital organs.
Jasmine reportedly fell ill earlier this month during her first days at her new college and left school early. Her condition deteriorating, she was taken to hospital, where doctors were unable to save her.
Tributes have since poured in for the teenagers, with her college classmates clubbing together to raise money for her grieving family.
In the days following her tragic death, a JustGiving page was set up by her best friend Billie Jo Ashwell, which so far has raised £1,117 plus donations from auctions from local businesses.
Billie's mum Donna has spoken to a local newspaper about Jasmine's 'bubbly' personality and offered her condolences to her family.
'Jasmine was amazing. She was one of those kids where she would make a sad face in the room smile. She was so bubbly,' she told the publication.
'She was friends with Billie and she would always shout across the road to me "Donna are you okay?" and then she would ask if there was anything I wanted. She said if I needed help then I should give her a shout. She was such a darling. I am going to miss her terribly. We are all in shock.'
Explaining the harrowing turn of events, she continued: 'Jasmine collapsed at college, she went home to bed and then later she came out in blotches and the rest is sad news.'
'The ambulance came for her and when she got to hospital she was brought back to life for 15 minutes. It's so awful.'
Speaking of her daughter's campaign to raise money for her friends and family, as well the kindness of the local community, Donna added: 'It's been absolutely wonderful the support from local people. Billie is so proud of herself and she knows Jasmine would be proud too.'
'We don't have a target we will just carry on. When we set up JustGiving it lasts for 30 days and we will carry on for that and hand over the money. We have 27 days left.'
A statement released by the Skegness Academy, where Jasmine attended up until earlier this year before moving on to college, said: 'The Academy community were shocked and stunned to learn on Friday of the death of Jasmine Beever. Our thoughts and prayers are with her family at this difficult time.'
Continued below...
'She attended the Academy until earlier this year when she went on to follow her career dreams at a local college. We will remember her as a friendly, positive, caring and lively girl who brought a smile to everyone's face.'