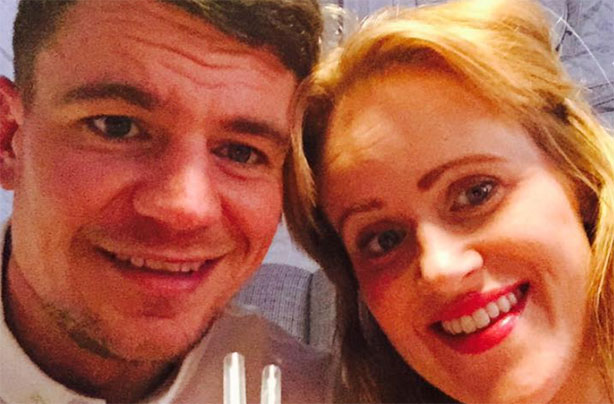 Students at a high school just outside of Edinburgh have raised thousands for their beloved teacher, who was struck down with a brain tumour last year and has been unable to work since February.
Bathgate Academy in West Lothian lost a much-loved member of staff in early 2017, after 36-year-old PE teacher Jamie Connelly was diagnosed with an incurable brain tumour last November.
He was rushed to hospital just one week before he and wife Lisa learned they were expecting their second child – but, he's been out of work since February because of his illness and physical nature of his job.
A JustGiving page set up by Lisa's best friend Susan Begley had hoped to raise £5,000 – but with donations from both past and present students at the school has now surpassed a staggering £20,000.
'A month after Christmas I underwent brain surgery to de-bulk the majority of the tumour,' Jamie wrote on the page. 'A part had spread into an area of my brain that the surgeon was uncomfortable trying to remove. The surgery removed 50% plus of the tumour. After a three-week wait, biopsy results confirmed I have an incurable glioma tumour.'
'I started radiotherapy, every day for six weeks, and last month I began what will be about nine months of chemotherapy. I've been unable to work since February and have been reduced to half-pay.'
'My wife Lisa is self-employed and only receives statutory maternity pay,' he continued. 'We have a three-year-old daughter Jessica-Lily as well as our new arrival Lucy. Caring for us all and with me laid low means we don't know when Lisa will be able to return to work. These circumstances have placed an enormous emotional and financial strain upon us.'
'The money will help us greatly with alternative therapies which may be able to prolong my life and my time with my family. This is an ongoing fight and at some point this tumour will regrow more aggressively.'
Speaking of the incredible success of the campaign, Susan said: 'The amount of money raised is incredible. A lot of his past and present pupils have donated and it's been amazing. It's not an easy time.'
Continued below...
'This has been the most overwhelming experience for Jamie and I,' added Lisa. 'But the support and love from you all will carry us forward. Thank you truly from the bottom of my heart.'