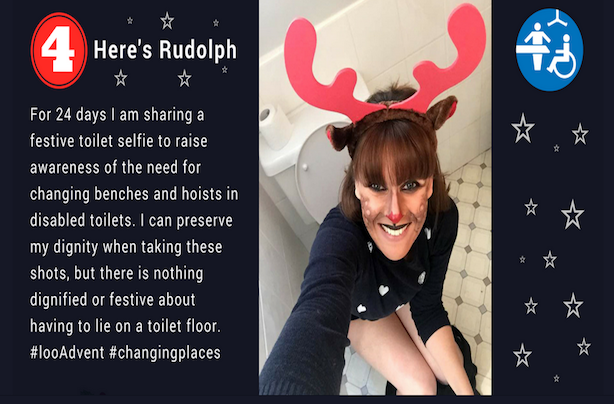 To date, mother Sarah Brisdion's alternative advent calendar has seen her eating a mince pie, wearing reindeer antlers and even drinking a bottle of prosecco on the toilet.
The mother-of-two has picked this unusual spot to take her Christmas snaps in a big to raise awareness of the lack of changing facilities in disabled toilets.
Releasing a series of selfies leading up to 24th December, Sarah hopes to highlight the plight of people like her son Hadley, seven, who needs changing facilities in disabled toilets so he can go to toilet with dignity.
**NEW PHOTO** Day 3 of #LooAdvent. Nobody should have to lie on a toilet floor to have their continence or sanitary items changed or be dangerously lifted to the loo without a hoist. Doing this for my son. I'll fight for his equality 'til the end! #ChangingPlaces #SundayBlogShare pic.twitter.com/9nRRlrZUWb

— Sarah Brisdion (@SazBrisdion) December 3, 2017
Although Sarah says she can preserve her dignity in the shots, she says that her son is one of many who knows that 'there is nothing dignified or festive about lying on the toilet floor.'
'We all need to pee. It's nothing to be ashamed of. Some people just need more help than others,' she said in her first post in the calendar, tagged #looadvent.
'Every day of December, I will be taking a festive selfie to raise awareness of the need for changing benches and hoists in disabled toilets.'
If you missed day 1 of #LooAdvent for #ChangingPlaces Here it is. 'Lighting a candle for the first day of Advent'. And yes, it is a candle, not a cup of tea....And yes, I was having a wee... Please share and follow. x pic.twitter.com/8GWFmTq4fW

— Sarah Brisdion (@SazBrisdion) December 2, 2017
Sarah, who is mother to twins Erica and Hadley, who is a wheelchair user with cerebral palsy, has found that she has to resort to changing her seven-year-old son on the toilet floor because of the lack of changing facilities.
'The slight embarrassment I feel from sharing these photos, is nothing compared to the indignity my son feels having to lie down amongst other people's urine,' said Sarah to Metro.
*NEW PHOTO* DAY 5 of #LooAdvent 'The office Party'. Whilst you're glugging free booze & having a good old knees up at your Christmas do, spare a thought for those who can't attend theirs because there is no toilet at the venue they can use. All public venues need #ChangingPlaces pic.twitter.com/xRhqbNTV8Y

— Sarah Brisdion (@SazBrisdion) December 5, 2017
'It's easy for me to take a photo. It's not easy for my son to live with being discriminated against,' she added.
Continued below...
According to toilet accessibility campaigners Changing Places, around a quarter of a million people need access to disabled toilets with changing facilities, but only one thousand are available.