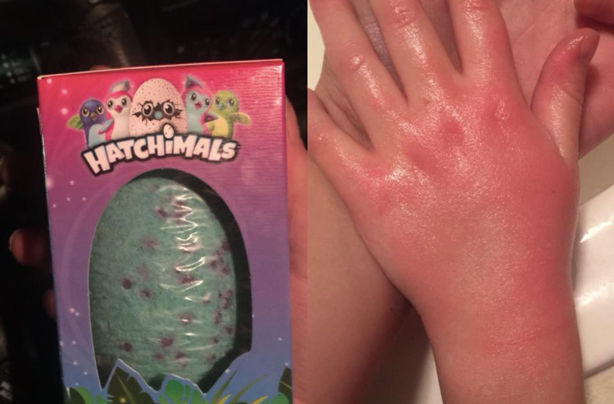 A mum has gone online to share a shock warning for other parents about a potentially hazardous Hatchimals product that left her daughter with bad 'chemical burns' on her skin.
The Hatchimals product in question was a bath bomb from their range. A popular gift for kids, the bath bomb fizzes and dissolves when dropped into water, revealing a cute character inside at the end.
Mother Jennifer Rose has taken to Facebook to share shocking pictures of her daughters skin after using a Hatchmials Bath Bomb in the tub at home. The concerned mum said she wanted to share the images and her warning for fellow parents 'to prevent others from using the product' and having a similar terrible experience with their child.
She also reveals that after contacting the company, they revealed that they had had 'numerous reports' about potential issues with the Hatchimals Bath Bomb and were investigating the claims.
'Do NOT buy this for your children!' she began the post. 'Thought it would be fun for her because there was a toy inside. After being in the water 30-45 seconds she stated her skin was hurting.'
Jennifer describes how she looked down to see her child's skin reacting to the product. The mum goes one to say that her daughter has had 'multiple different kinds of bath bombs and never had this reaction' before, so she wanted to share her 'warning' for other people who may have bought the potentially hazardous product.
Jennifer went on to say: 'She has had these before and all different brands. I called the company and the batch number being investigated and is likely going to be recalled as numerous reports have been made (not all the burning reaction she got).'
'Went to the doctor this morning and it was in fact a chemical burn not a reaction. I am posting this just in hopes people will monitor closely. Everyone loves bath bombs. Lesson learned. All natural ones from now on.'
Spin Master have responded with the following statement regarding the incident:
'Spin Master has been looking into the matter with the manufacturer and licensee to whom we license the Hatchimals brand. Safety is our top priority and we are deeply saddened to learn of the girl's injuries. At this point, Global Brands Group has not found any indication of a product defect or manufacturing issue. Additionally, the product formulation has been subject to stringent safety testing and meets all industry standards.'
In addition, Global Brands Group, the product's manufacturer, have also released the following official statement:
Continued below...
'Global Brands Group takes the safety of our products very seriously. We manufacture and ship millions of bath bombs and body washes, and have rigorous processes in place around development and testing, as well as all aspects of production. After careful review, we are confident our Hatchimals bath products are, in fact, safe. However, it is recommended that consumers be mindful of any adverse reactions they may have based on personal allergies or sensitivities.'