You are here:
Books for children
Books for children
Print out our FREE bookmarks for your kids to encourage them to read more. We've got a space or flower design to choose from

Children's books at full price can be really expensive, especially if you have to buy for different ages at any one time. From free books to eBooks, here are our…

Did you know 1 in 3 children in the UK don't own a book? We want to know if you encourage your kids to read. Share your hints and tips with other mums

Are the kids bored? Try these ideas for some fun at home with the kids, like buying a book to fire their imagination
New articles
Follow our guide to the top…

We've been getting all nostalgic in…

We all had our favourite books when…
Books for children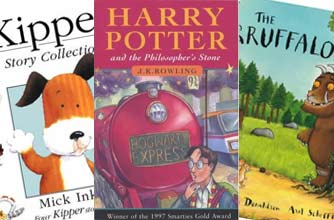 Struggling for inspiration when it comes to books for children? We're here to help. Did you know almost 4 million children in the UK don't own a book? That equates to 1 in 3 kids, a stat that shocked us. Research suggests children are more likely to become above-average readers and do better at school if they own a book - and, let's face it, not many kids like visiting a library to borrow one! So whether it's expert advice you're after or the latest children's books out on the bookshelves, we'll show you the light and make your job a little bit easier.
- The most popular books for children at the moment
Latest Books for children picture galleries
Found our articles useful? You'll like these...