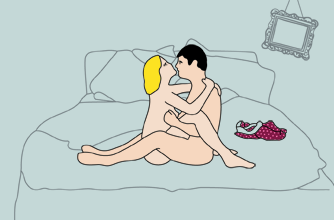 Sex positions for conception: Face to face
Sit opposite each other and then make a sultry slide onto his lap and sit on top of him. Once you're on, wrap your legs around his waist and join your legs behind his back. If he puts his feet together it will provide a kind of cradle for you and you can just rock on him.

Great because: It may not give sperm a helping hand but it often produces a simultaneous orgasm, as you both build up together to climax, so you'll have a great time together. Plus, the more fun you have in the bedroom, the more you will want to have sex which is pretty vital to getting pregnant!