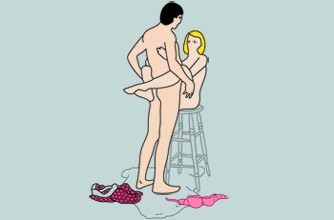 Sex positions for conception: Squeeze him tight
If you've ever wanted to push everything off your desk and have spontaneous sex - this is the way to do it. You sit on any surface, wrap your legs around your man's waist and squeeze him tight. Your man faces you and you can wrap your arms around him to keep you upright.

Great because: It's easy to do anywhere so it'll help you to have more sex, which is the best way to improve your chances of conception. You can always lean back to help the sperm along - don't fall off the surface though!