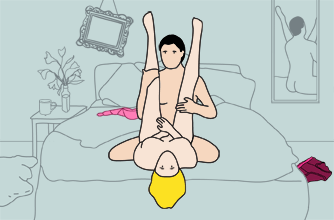 Sex positions for conception: The leg stretcher
Similar to the Leg Over position this one is all about putting your legs in the air, like you just don't care. First you lie on the bed with your legs straight up, whilst your man kneels on the bed behind you and hold on to your legs. It's a nice lazy one for you but still gives your legs a stretch.

Great because: You're in a good position for gravity to help the sperm get to where it needs to be. In fact, some people think it helps you to get pregnant if you stay lying down with your hips up for a little while after sex.