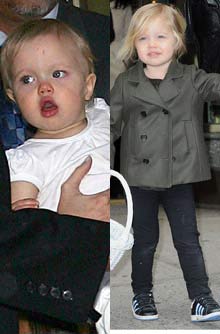 Shiloh Nouvel Pitt
Claim to fame: The daughter of two of the most gorgeous human beings on the planet, Angelina Jolie and Brad Pitt, Shiloh sparked the highest bidding war ever (outdoing even the fee for J-Lo's twin baby snaps) when in 2005, People reportedly paid $4 million for the U.S. rights to the first shots of her and Hello! magazine bought the British rights.

Where she'll be in 10 years time: Following in mum's footsteps as a global ambassador for a high-profile humanitarian cause and an award-winning actress.

Silly name rating: 8/10 Hebrew names are all the rage - Shiloh means 'the peaceful one'. Nouvel is new in French.