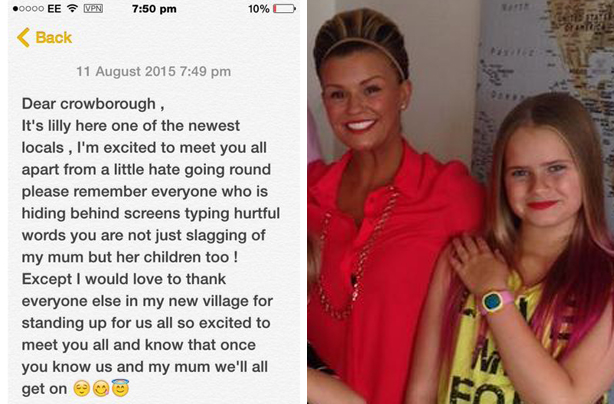 Kerry Katona's daughter Lilly McFadden
No one likes hearing people bad-mouth those we love, and that's exactly how Kerry Katona's daughter, Lilly, felt when she penned this open letter.
Kerry has recently moved from Oxfordshire to a house in Crowborough, East Sussex, where the residents weren't too happy about their new local. Taking to social media, one wrote: '18 years in the area. ........ time to move?', while another said: 'Why us?'.
Other commenters said: 'Property prices will fall dramatically', and: 'She will fit in with the inbreeds.'
Unimpressed with the comments, the 12 year old addressed the residents in her mum's new town in an open letter she posted on Twitter, proving that she's wise beyond her years.
She says: 'Dear Crowborough, it's Lilly here one of the newest locals, I'm excited to meet you all apart from a little hate going round please remember everyone who is hiding behind screens typing hurtful words you are not just slagging off my mum but her children too!
'Except I would love to thank everyone else in my new village for standing up for us all so excited to meet you all and know that once you know us and my mum we'll all get on.'
Good on you Lilly for sticking up for what you believe in, and for not sinking to the same level as those nasty critics! Enjoy your new home.
Image:
lils_mc