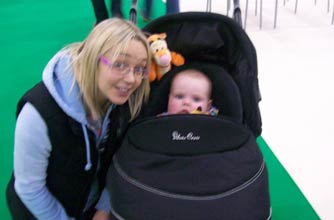 Ruth and 6-month-old Addysen
Did you find out Addysen's sex before she was born? I didn't and I didn't really have a preference. My partner wanted a boy because he's an only child - so in some ways I wanted a boy for him, but I wasn't really bothered. I actually wanted to find out, but I went for the scan with my mum and my partner and they wouldn't let the doctor tell me! After that I didn't really mind not knowing.
How did you pick her name? I'm a great fan of Grey's Anatomy and there's a character called Addison - I liked the name but wanted a different spelling, so I did some research.