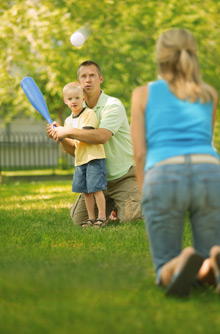 Rounders
Rounders is a great way to entertain kids of all ages, from teenagers to little ones. You just need enough people to make two teams, then chose one team to field and the other team to bat.

A rounder is scored when the batter manages to reach 4th base after hitting the ball or when there has been a no ball.

The batter is out if a fielder catches the ball, stumps the post before the batter has reached it or if the batteer run inside the posts.

Make a picnic, head down to the park and give it ago!