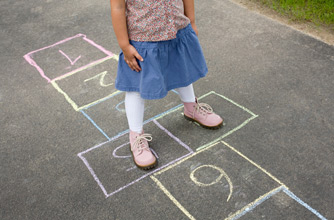 Hopscotch
For a great game of hopscotch, simply draw a hopscotch grid on the ground using chalk and throw your marker (a stone, button or small beanbag will do) onto the first square, then hop along the grid - avoiding the square with the marker in. If you step on a line, hop on the wrong square, or step out of the square, you'll lose your turn.
If you managed to complete the course then throw the marker onto square two and do it all over again. The aim is to complete the course with the marker on each square.
Not only is this game great fun but it helps kids learn how to count.
Family party game ideas