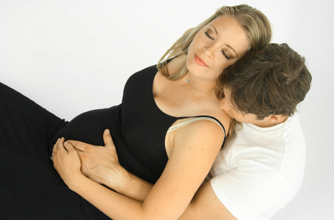 Sex when pregnant
Feel strange about sex during pregnancy? It's perfectly safe to have sex when pregnant - in fact, that's when many women want it more than ever! Remember that if you're happy, then your baby is too. The chemicals released during orgasm help relax you, and this peaceful feeling will be passed onto your baby. Don't forget, your child wants to come into a good relationship that is happy on all levels!
If you're finding sex awkward and your bump is getting in the way, you'll probably need to find some new
sex positions
that work for your growing body. We've rounded up the best sex positions to try throughout pregnancy - we hope you enjoy them!