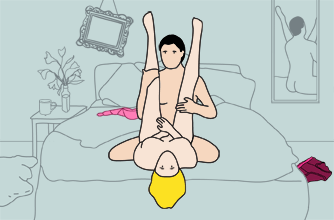 Sex positions during pregnancy: The leg elevator
For this one it's your turn to have a little breather! Lie face up on the bed with your legs straight up in the air. Your man kneels on the bed behind you and holds onto your legs. He can push them high or lower depending on what's comfortable for you, even resting them on his shoulders if you're quite flexible. Once you're in position he can use your legs for leverage and begin to thrust.

Great because: Another great one for low-energy days. Your man controls the pace while you lie back and enjoy. Plus, it takes the pressure off those swollen ankles and feet. Careful how high you push those legs though, if your bump is too big it might get in the way!