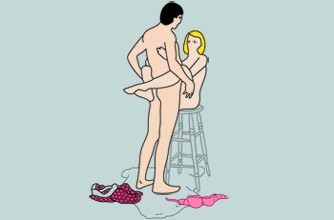 Sex positions during pregnancy: Leg wrapper
You sit on a surface (bed, table, kitchen work surface - you can be creative!) with your legs wrapped around his waist and squeezing him tight. From there he has the freedom to thrust with ease and is in the perfect position for lots of kissing. If you're finding it difficult to sit straight up you can wrap your arms around his back to keep yourself upright.

Great because: In this position there's the opportunity for you both to have a go at controlling the pace, and for you it takes minimal movement so it's a great energy saver. This position also helps strengthen your pelvic floor muscles - which will come in handy during labour!