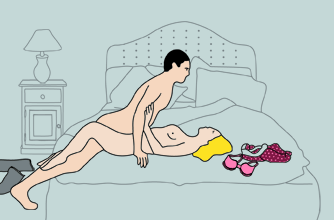 Sex positions during pregnancy: The bed bender
This one has a similar dynamic to the missionary position but with even more depth. First try lying back, placing your bottom near the edge of the bed and your feet on the floor. Your partner then lies on top of you and enters by kneeling or standing between your legs.

Great because: After carrying a baby in your belly for 9 months you deserve a little lie down! With this position you simply have to lie back, relax and let him do all the work. Plus, he'll find it pleasurable, too.