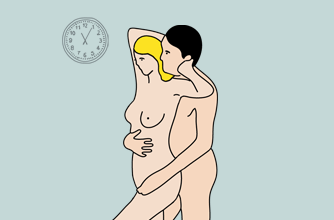 Sex positions during pregnancy: Standing ovation
Don't rule out saucy, standing-up sex just because you've got a bump! Start by standing in front of him and get yourself into a position so he can enter you from behind. You might need to try leaning forward slightly, bending your knees or arching your back so that he can penetrate you, which can take a few minutes to get right. Then slowly straighten up, ensuring he stays inside you. When you're both ready, he can start thrusting while you enjoy the ride.

Great because: The position will hide any wobbly bits if you're feeling self conscious - and you don't need to worry about your bump getting in the way. Also, with his arms free to wrap around you it makes this a really intimate position with lots of opportunities for cuddling.