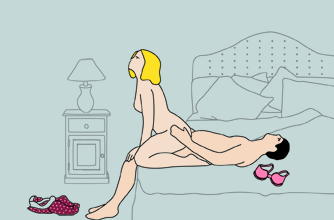 Sex positions during pregnancy: Back to front
He'll love the reverse cowgirl position for it's racy reputation, but it's also great for sex during pregnancy. Your man lies flat on the bed with his legs hanging over the edge which is great if he's getting a little tired. You climb on top of him but face away from him and lean forward with your arms, resting on his knees or thighs. Angle his penis downwards slightly and let him enter you. Then rock back and forth.

Great because: Reverse cowgirl is great to try if you want something a bit different. It's a fun, feel-good position for you both. You can get yourself comfortable and control the pace. Plus, it makes your backside look amazing which we just know he will appreciate!