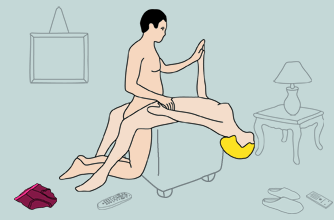 Sex positions during pregnancy: Sideways lean
This one might sound complicated, but trust us, it works. Sit sideways on a chair and slowly lean backwards so your head is pointing downwards. Now get your fella to kneel between your legs and enter you. This is great for the guy because he has the freedom to control the speed. The only tricky factor is that you may find it difficult to balance, but it helps if you hold hands so that he can support you whilst you're leaning back.

Great because: This position allows room for any size bump and requires minimal effort from you - great if you're having a low energy day. Plus, the head rush helps promote orgasm - just make sure he helps you up after ward!