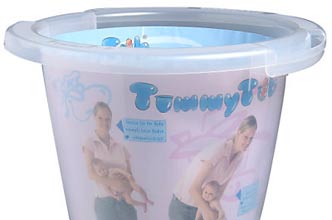 Which baby bath? Tummy Tub
This is a relatively new idea in the world of baby baths! It's basically a very stable bucket that's been designed to relax and calm babies because they sit in the foetal position that they've been used to in the womb. The only downside is it's only suitable for babies up to 6 months.
Why it's good:
It's endorsed by doctors, midwives and health visitors and you can buy a Two Step Stool so you can bath the baby from a sitting position.
Where can I get it?
It's £18.99 with FREE UK delivery from
Natural Baby Shower
Where to next?
-
New baby essentials
-
Best baby toys
-
Baby development - what's next?