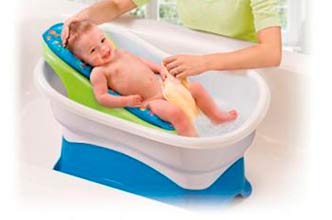 Which baby bath? Summer Right Height Tub
If pregnancy has taken its toll on your back, this is a great purchase for both you and your baby. It features a sling and a plastic insert to support a newborn which can be removed as your baby gets older. But the real bonus is it features an extra platform which raises the baby bath higher up so you won't need to bend over!
Why it's good:
When the platform is no longer needed it can be used as a kneeler or step stool.
Where can I get it?
It's £29.95 from
Kiddicare
.